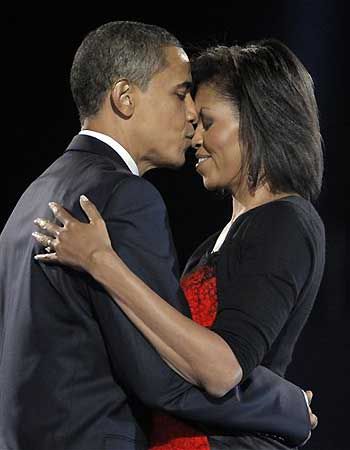 Last night's
Obama Win
was simply amazing and surreal.
Wondering what our new First Family did on Election Day and how they could possibly keep their calm all day?  Here's the scoop:
Obama retreated into a private comfort zone – an Election Day ritual game of hoops with staff and buddies. He then shared an intimate dinner of steak at his Hyde Park home with his family, including his mother-in-law, Marian Robinson, and brother-in-law Craig Robinson.
Obama's daughters went to school as usual on Tuesday, then got their hair done for the big night. Their grandmother, Marian, who has taken care of the girls while their parents traveled with the campaign, laughed when she told PEOPLE: "I hope [Michelle] doesn't make them go to school tomorrow – but if she does, I'll be there to take them."
As for her son-in-law's history-making win, Robinson said: "Is this exciting or what? I cannot wrap my head around it."
Source: People.com
Loves it. 
Click here
if you missed President Obama's Victory Speech. More pics and stories from last night's historic win when you read the rest...
Barack Obama
has made history as the first African-American to be elected President of the U.S. and nominated for President by a major U.S. political party.
Bush
is packing up and The First Family is moving into the White House. Obama assumes office on January 20, 2009. And it just couldn't happen fast enough.  Here's the post-election statement put out by Hip Hop's President
Russell Simmons
:
The vision of the hip-hop generation and its young people is in full and glorious effect tonight. While many older Americans, who marched and struggled so hard so Senator Obama could run for president of the United States never dared to believe in his candidacy's real potential, young people, particularly the hip-hop community, had faith and their imagination became our reality. The election of Barack Obama, a resounding progressive voice, is a clear reflection of hip-hop politics. It is a reflection of the 35 million people who downloaded Ekhard Tolle's "The New Earth," and all of the other popular books espousing this new, emerging consciousness. Promoting love, compassion and generosity over fear, anger and greed; promoting lasting peace through dialogue and opportunity will be more economic to the American people in these troubled times than the promotion of war. Obama"s election as president is a beautiful testament to the American collective consciousness that is flowering. This more loving consciousness will be necessary to protect us from some of our hurtful human choices and tendencies. We will need it to create balance with the constantly emerging advances in technology so, going forward, we can use these advances in a positive way to lift up Mother Earth and all her inhabitants. I don't think I'm overstating it when I say that today, I feel like America has dodged a bullet. Let's support this beautiful leader to do the work necessary to promote and execute on the change agenda we all voted for. Let's each do our part to insure that this is a transformative time in America, where our country can be a leader in creating a positive and lasting change in the world. -Russell Simmons
And more Election Night pics from Chicago's Grant Park: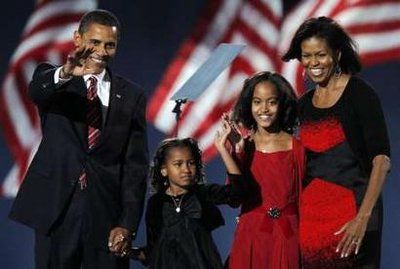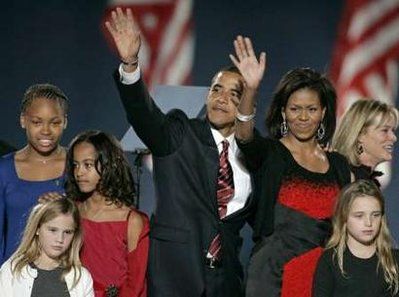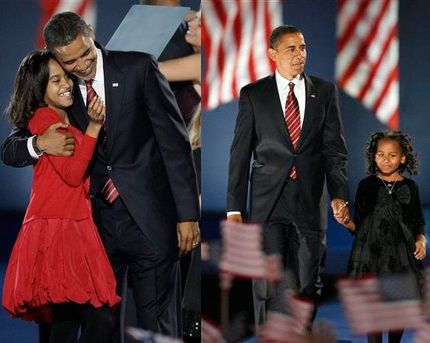 The Obama fam was in full effect.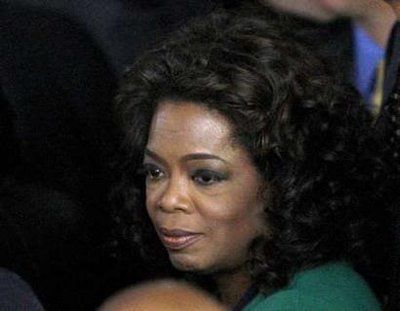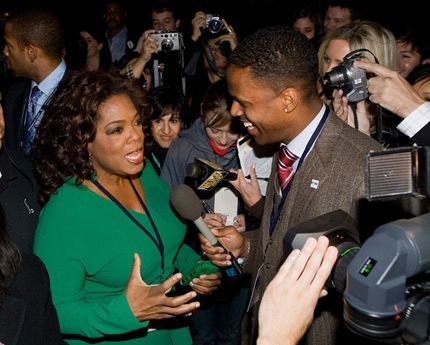 Lady O
watched from the crowd and chatted with
AJ
.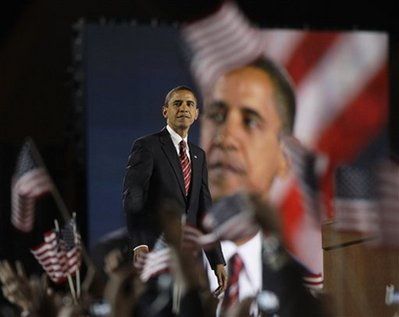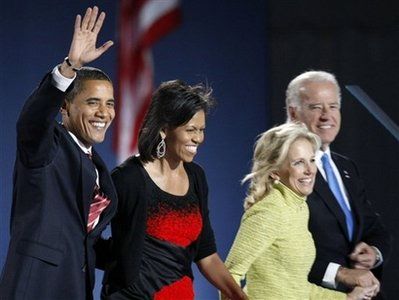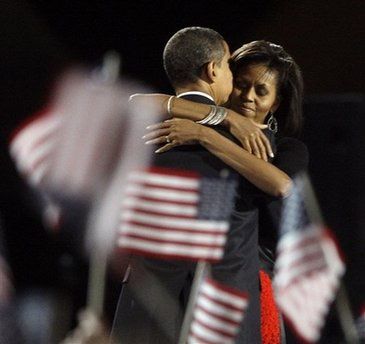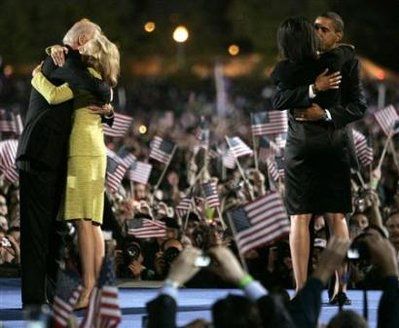 Definitely a beautiful moment between the Pres. and First Lady.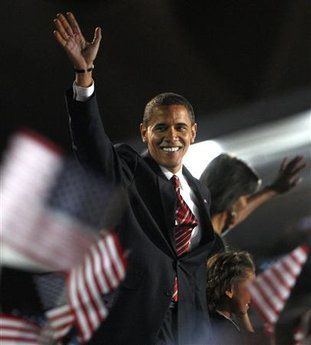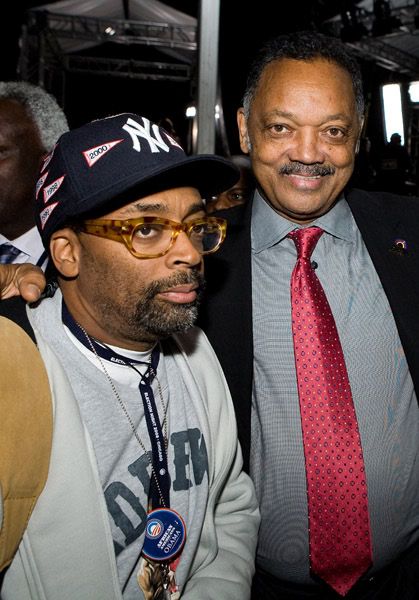 Jessie
and
Spike Lee
were in the crowd.
So was
Hill Harper
,
Pres. Obama's former Ivy League schoolmate.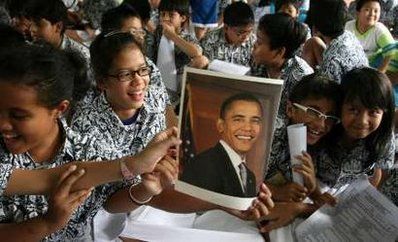 The kids at Pres. Obama's old school in Jakarta yesterday.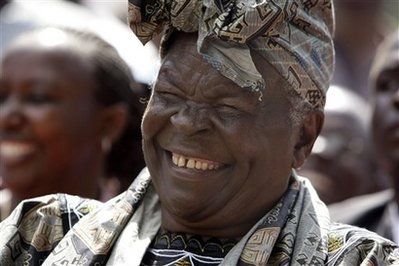 Sarah, the step-grandmother of U.S. President Elect Barack Obama, reacts as she gives a news conference after his victory in the U.S. election, at the family's homestead in Kogelo village, Kenya, Wednesday, Nov. 5. Barack Obama's Kenyan relatives erupted in cheers Wednesday, singing 'We are going to the White House!'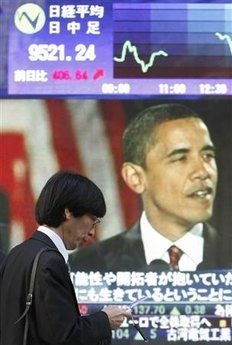 Tokyo workers in Japan watching Pres. Obama give his victory speech.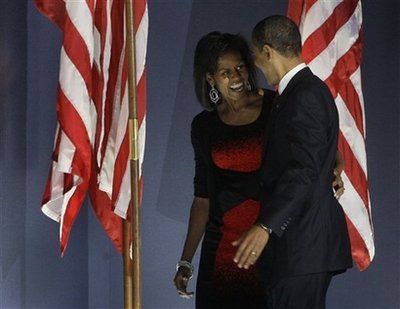 I couldn't even sleep last night. So I may just have to make today an unofficial "Did this ish REALLY just happen?" holiday.  And let's try to refrain from Harlem, Cupid, or any other type of shuffling in the office today.  Just try.