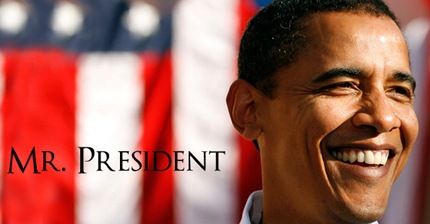 Our 44th President-Elect
Barack Obama
gave his usual moving speech tonight. He accepted the votes to become the first ever black U.S. President in history. Check out the full video of his victory speech below:  
  The epitome of absolute YBFness.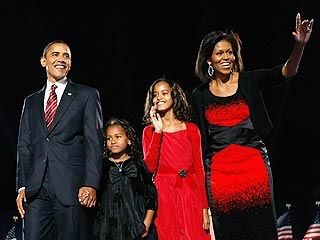 Side notes:  While cuttin' up at an Election Watch Party tonight....I had a few thoughts.
First Lady
Michelle O.
looked all kinds of fierce. 
Vice President Biden's
wife
Jill
isn't so bad herself. 
Sasha
and
Malia
 are killing me with the cuteness.  Barack and Michelle looked simply smitten with each other and my girly self loves it all.  Michelle's mama is a fierce one too. 
Oprah
and
Jessie Jackson
were spotted in the crowd with tears running down their faces.  We spotted
Andre Leon Talley
too...and I'm going to need for him to back up off Michelle.  She doesn't need the tangy turban ish.  I'm moved by this election not because a black man has been voted into the White House, but because people finally get the purpose of a President--to uplift morale, be the steady and strong guiding hand in the face of chaos, unify, and be a GLOBAL face for our country--which all leads to us securing our spot as the World's powerhouse in every way.  We no longer had this, so change was necessary.  President-Elect Obama was the only candidate who represented that change.  He proved it with history making voter turn outs and an unprecedented amount of people who actually began to give a damn.  If how he ran his damn near flawless campaign is any reflection on how he'll run this country--we're in good hands.  I'm excited that the Democrats have complete control of both the House and the Senate.  And even more excited my current state of Virginia pulled through in the absolute very end--who said every vote doesn't count? Now cue the
Jim Jones
and let's Pop some Champagne... More videos from tonight's celebration in Chicago's Grant Park when you read the rest... Oprah in Grant Park saying "America Did The Right Thing" Jessie Jackson sheds tears in the crowd The Obamas voting in Chicago yesterday