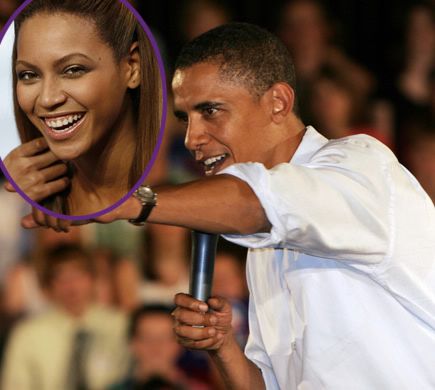 Word has it
Beyonce
has offered to perform at the Inauguration Ball of President Elect
Barack Obama
.  There are actually several Inauguration Balls on the same night and there is no word on which one exactly she offered to do.
"I'm there. I can't wait. I feel like all of us, we're ready to do whatever we have to do. Whatever they want — if they need me to volunteer, they need me to sing, I'm there, and I'm ready. I've never been so patriotic! I'm just beyond excited."
Though she was scheduled to be in Japan on Tuesday to promote her new album she decided to come home early to watch the election results come in.
"I said, 'What am I doing? I'm completely making a bad decision. I have to go home, I'm gonna kill myself if I'm not home in America,'" she said. "I knew I needed to be here.
And her reaction to the election:
"I fell asleep crying and smiling at the same time. I woke up with mascara running and a smile on my face!" She also said she hopes Obama's win will inspire people to pursue their dreams regardless of their skin color. "My nephew, who is 4, when we say, 'You can do whatever, you can be whatever,' it's not cliché.  You have no doubt that it's not true."
Loves it. The offer has not yet been accepted or denied, but the Presidential Inaugural Committee are the head folks in charge of that.  We're also hearing that the Committee may be extending an invitation to Chicago native
Jennifer Hudson
to perform in some way.
Random Obama juice tidbits:
His new Chief of Staff Rahm Emmanuel used to be a ballet dancer.
Diddy on his 39th birthday election day: "I don't know why God blessed me by having my birthday [on Election Day], but we're here to celebrate 80 percent of Obama being elected and 20 percent my birthday."
The number of voters this election was up by 14 million from last year and any other election.  The 18-29 age range had one of the largest impacts.  FABULOUS!
Sasha and Malia Obama are huge Beyonce fans.
Mrs. Obama has said her celebrity crush is Will Smith.  Maybe because his ears resemble her husband's...
A record amount of 78 million people watched Prez Obama's Victory Speech Tuesday night.
Get info on all the Inauguration Day festivities here. The theme of Obama's Inauguration Ceremony is "A New Birth Of Freedom". It's a phrase taken from former Pres. Abe Lincoln's (who was also a Congressman from Illinois of course) Gettysburg address.