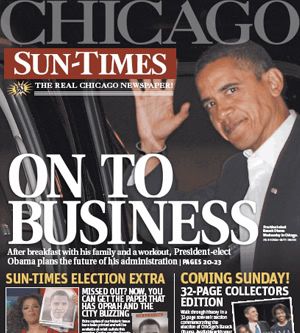 It's been a whirlwind of a 2 days for our new President-Elect. And
Barack
and the rest of the fam is prepping for their move to D.C. Here's a run down of what's been poppin' with the
Obamas
:
Obama's pick for his new White House Chief of Staff Rep. Rahm Emanuel has just officially accepted the offer.
Barack and Michelle are definitely bringing their daughters Sasha and Malia with them to the White House.  It is rumored the two will be attending Sidwell Friends private school in DC--well known for schooling the children of high profile folks.  Chelsea Clinton is a former student.
Obama's new administration is beginning to look quite Clinton-esque.  Emanuel and a few others he has tapped for his inner circle/staff are former Clinton administrators.  It is rumored that Valerie Jarrett, who is a black female lawyer and businesswoman heading up the Obama Transition Team, will get a high place in O's cabinet.
Hotel rooms for Inauguration Day and Nov. 5th newspapers covered with The Obamas are sold out everywhere.
After the Victory Speech, the Obama family went to their Chicago family home and nixed the partying.  The next day, they had family breakfast as the Prez Elect made his rounds speaking with potential staffers.
There's talk of people changing how we refer to The White House to The Presidential Estates.  Um, ok.
People are debating which type of First Dog the Obamas should get since the girls were promised a puppy by their dad.
The Obamas will be heading to Hawaii early next week to attend his Grandmother's funeral services.
Obama is holding his first press conference as President-Elect tomorrow (Friday) where he will announce his first staff appointments.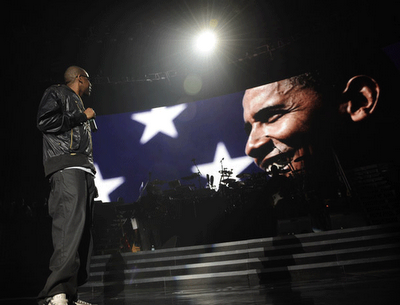 Here's
Jay-Z
's fresh new track called "History" he released yesterday. [audio:jayhistory.mp3]
It's rumored to also be on his upcoming
Blueprint 3
album.