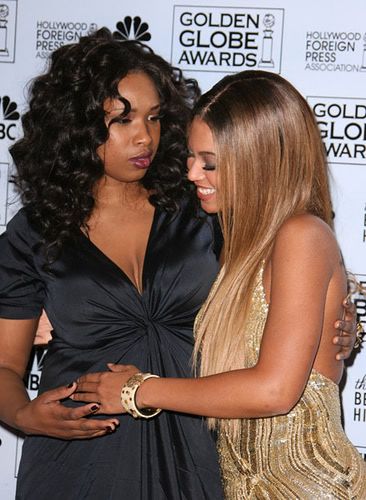 Now we all know about the rumors in the past about Beyonce being jealous of
J-Hud'
s almost instant superstar status. Rumors of beef between the two flew everywhere. Especially when Jenny was getting
Dreamgirls
awards left and right when Beyonce was lucky if she even got nominated. Of course, the Knowles camp played the denial game to the tee. And now, Jennifer's close friend James has called out Beyonce for accepting credit for going to the Hudson family funerals--when she was never even there. He says she hasn't even reached out at all to her supposed friend Jennifer this entire time. Here's what Superstar James just posted on his myspace page:
How evil can someone be? So i wasnt going to write about this but it is really really bugging me. Especially when people are calling my phone saying how nice it was of Beyonce to come to the funeral and show her support. And i have to sit back and hold everything i wanna say inside. But i cant do it no more. Beyonce did not come to the funeral nor did she call, text, send a card or hell send a damn email. If there are millions of people who are leaving Jennifer and Julia and myself messages and sending there prayers and condelences and these people don't even know them why couldnt she? Every singer that Jennifer admires and had been a role model for her growing up even until now has called, from Aretha to Shirley Murdock to even present day singers like Chrisette Michelle. And yall know how much Jennifer loves Beyonce and she couldn't even have her assistant call or nothing. But yet her camp is allowing her to recieve credit for coming to the funeral and being there for Jennifer and her family. Bullshit! This just pisses me off. Once again thanks to everyone who has be there for us. And sorry if i offended any of Beyonce fans by writing this but if i just couldn't keep sitting back and reading articles and emails and having my phone ring about how nice it was of Beyonce to come out!
Source
< Wow. If this ish is true, dude does have a point. Beyonce wants to play
Wonder Woman
when you read the rest...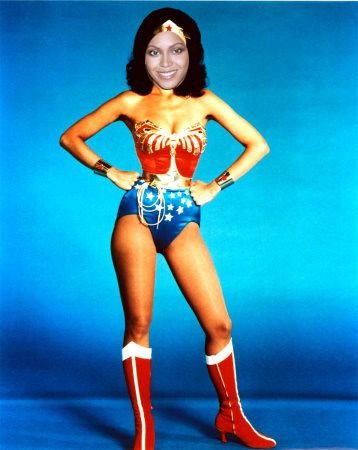 Beyonce has met with representatives at DC Comics and Warner Bros. to discuss donning the red, white and blue bathing suit on screen:
"What would be better than Wonder Woman?" she tells the Los Angeles Times. "It would be great. And it would be a very bold choice. A black Wonder Woman would be a powerful thing. It's time for that, right?" "After doing these roles that were so emotional I was thinking to myself, 'OK, I need to be a superhero,'" Beyoncé tells the Times. "Although, when you think about the psychology of the heroes in the films these days, they are still a lot of work, of course, and emotional. But there's also an action element that I would enjoy." "I would definitely have to keep it right for that costume," she says. "But I love Wonder Woman and it'd be a dream come true to be that character. It sure would be handy to have that lasso."
Chick may be taking this ish a bit too far now...