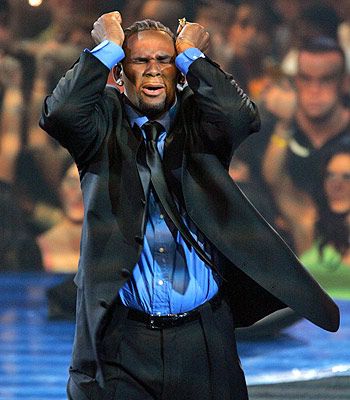 R. Kelly
's two nephews
Brayel
and
Brandon Kelly
have been taken in as suspects in a Chicago barbershop armed robbery attempt.  15 year old Brayel was shot twice in the abdomen/chest in the process and is now in intensive care.  Here's what went down:
Calumet City police told MTV News that one of the two boys went into a barbershop and requested a haircut. After receiving his haircut, he allegedly tried to rob the barbershop owner by producing a weapon and demanding that the owner place his money and jewelry in a plastic bag. The man complied but also produced his own weapon. Police say the suspect fired, and the victim returned fire. The owner later told police that he believed he hit the robber.
Before responding to the armed-robbery call, police responded to a call two blocks away, where they found a juvenile who had been shot in the back. Brayel's older brother, Brandon, was arrested and police are investigating whether he acted as a lookout.
Wow.  Brayel and Brandon are
Carey Kelly
's (R. Kelly's brother's) teenaged sons. Carey told reporters that he believes his sons were the victims of the attempted robbery, not the perpetrators, since there is a widespread belief that the more famous Kelly had shared his wealth with his family. "People have tried to rob us," Carey told Chicago's WLS-TV. "They think we got money. ... That's R. Kelly money, that's not our money." Apparently R hasn't been close to his nephews ever since a falling out with the family. News on
Adrienne Bailon
's stolen naked pics when you read the rest...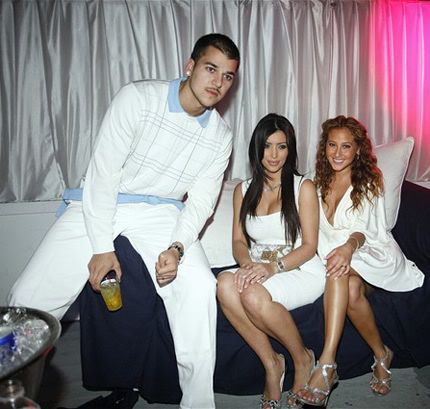 Rob, Kim, and Adrienne
Well it looks like Cheetah Girl
Adrienne Bailon
is taking a page out of her boyfriend's sister's (
Kim Kardashian
's) book-o-tricks.  According to TMZ, somebody stole Adrienne's laptop while she was at JFK airport a couple weeks ago.  They held it for ransom for $1000 and threatened to sell it to the highest bidder.  The label negotiated with the thief and bought back the laptop.  But...they had stolen from it the semi-nude pics Adrienne took for her boyfriend
Rob Kardashian
.  I'm sure those will conveniently "leak" to the net when the next Cheetah Girl project drops.  Womp womp. And what's with these Disney people always getting caught up with naked pics?  Do better.