EXCLUSIVE: Keyshia Cole Does UPSCALE Magazine
Nov 13 | by Natasha
Ms. Keyshia Cole has stepped her fab game up once again and is looking uber fabulous on the special double cover of the December/January issue of Upscale mag: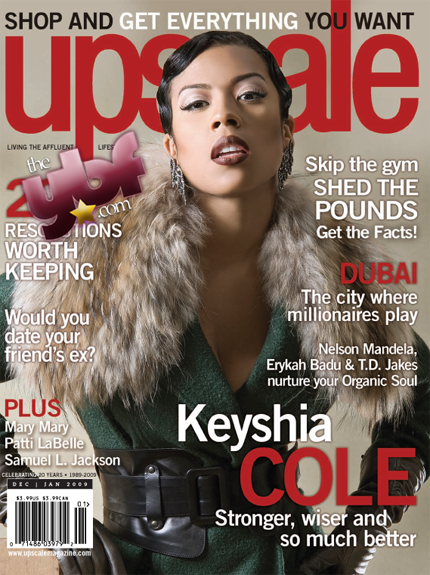 Her spread was shot by the just as fabulous celeb photographer Derek Blanks. Looks like Keyshia's on an old Hollywood glam kick. Loves it. We've got some of Keyshia's exclusive quotes from this issue when you read the rest...
In the main story, she talks (a little!) about Jeezy, about her relationship with her family, her career, other artists, and how she's come to this point. But here's some quotes until then... On growing up: People evolve everyday. I try to evolve in everything I go through. As far as the tv show is concerned, the reason why I originally did [it] was so that young people can see that what you come from...you can overcome adversity if you been through that, or whatever you been through, you can overcome it. On the sound of [her upcoming album] A Different Me: It's okay as a woman to show different sides of yourself, and that's what I feel like I'm doing... On whether she's surprised by her success: Not really, cause I work hard. I expect-- not necessarily success-- but I expect change because I work hard at at everything. For everything to happen--it's definitely like it was supposed to, as hard as I work. On groups like Danity Kane breaking up: That's why groups are not good-- because they break up. Too many different personalities, you got too many people doing their own thing On performing Ribbon in The Sky in front of Stevie Wonder: I think it's a beautiful thing for [older artists] to be able to see that-- where music has gone and evolved to--and to see new age artists do a tribute for them and respect them so much. On her new workout sched: I just stopped the last three four days, but [usually] every morning before I start my day, for an hour and a half. Squats, weights, running swimming miles--it just depends. On Kanye's Love Lockdown: I love that song. I told him we could feel you. We know what you saying. He was like Really? Absolutely! He's going through it in what he's talking about.
Story by Billy Johnson Jr., Pics by Derek Blanks

If you see these quotes anywhere else--and not credited to YBF--you know they jacked from here. As usual. Read on oh fabulous ones...