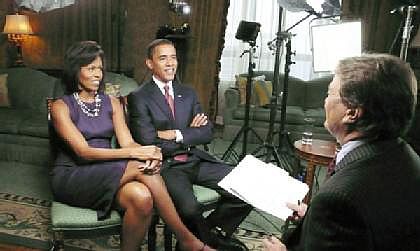 President-Elect Barack Obama
hit up "60 Minutes" last night for his first post-election interview.  His wife
Michelle O.
joined him in the second half.  Check the video below:
The transcript is
here
. Obama also meets for the first time post-election with
Sen. John McCain
to smooth over campaign bouts today.
In other news, "Democratic officials" have stated that Obama has definitely offered the Secretary of State position to
Sen. Hillary Clinton
.  She has allegedly said she wanted a few days to think it over.  Hmmm.  Didn't she just say she's not interested in anything Executive and will stick by NY as its Senator?  And honestly, I'm not OK with this decision if it goes through.  I can think of a few better choices...
The Obamas still haven't selected a First Dog or a school for First Daughters
Sasha
and
Malia
.  But I'm sure those decisions will be made public before they become the official residents of 1600 Pennsylvania Ave. The Randomness: 1. Everyone in the paths of the California fires please be safe!