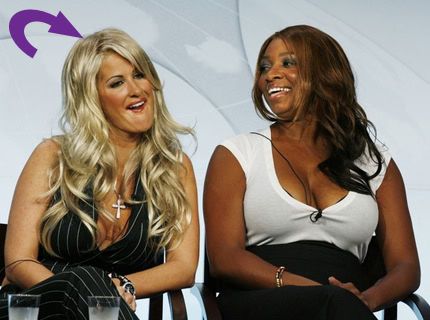 So resident wino
Kim Zolciak
of "The Real Housewives of Atlanta" interviewed with Essence recently. And she says she's now broken up with
Big Poppa
(shocker!) who is still married and (double shocker!) didn't get a divorce like he said he would (*dead*). Did she not know we already knew this ish? And probably before she did? She finally got tired of being his bust-it-baby. And she really thinks she has a single coming out. Here's my fave laughable quotes:
ESSENCE.COM: Speaking of your relationship, there are tons of rumors out there that your fiancé, otherwise known as Big Poppa, is married. Care to clarify? ZOLCIAK: He is legally married. He has been going through a divorce for years. I've seen all these crazy names of who he is on the Internet, like Quincy Jones, Ted Turner, and even Dallas. He's like Sheree, who has been trying to get a divorce for years, but she's dating so it's that kind of thing. ESSENCE.COM: Are you guys still going strong? ZOLCIAK: No, it's officially over. I called off my engagement and I'm officially single. People have speculated that it's this Lee guy (Lee Najjar) to Quincy Jones to David Foster to Dallas Austin. It's just unbelievable. Big Poppa has been my best friend for three years and I think he's a great person but I need to go find Kim and what makes Kim happy and chase my dreams. I want someone who is supportive of me and my dreams and not add tension to my life. I want to focus on my children, finish my album and not worry about what makes everyone else happy. ESSENCE.COM: What projects do you have coming up after the show? ZOLCIAK: I'm in talks to be on the cover of Playboy and possibly on the cover of Maxim. I'm very excited. A lot of people were like I wish you would do Playboy so I'm working on that. I didn't want to be just a centerfold girl. I wanted to be the cover! ESSENCE.COM: You once said that you see yourself as a Black girl in a White girl's body. What makes you feel like you identify with Black women? ZOLCIAK: I had entirely too much wine that day in my interview. I just don't see color and I never have because it doesn't matter to me. People always say, "You sure your dad's not Black?"- because I got a pretty round booty. Other than that, 50 percent of my girlfriends are Black. It's not that I can relate to one more than the other. That's just my life and that's who I am surrounded by mostly and it works for me.
Source
*blank stare*
I see she had way too much wine for
this
interview as well. She also talks about her fights with
NeNe
and
Lisa
at the source. While all these chicks on this show make my stomach turn, I do know Kim does NOT want it with NeNe. Why is this chick still convinced her tone deaf self can sing and that people want to see her 45 year old ass (no, I still don't believe she's 29) on a magazine cover? Girl stop.