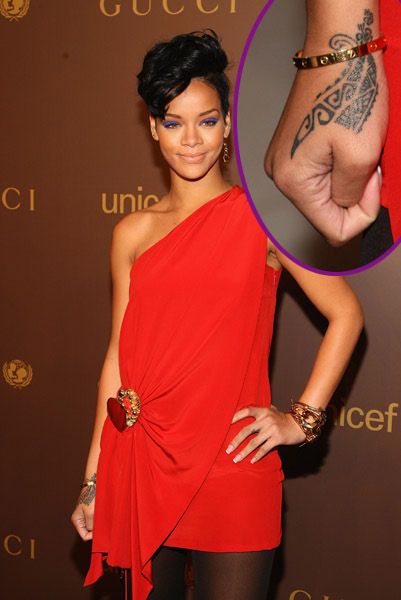 So
Rihanna
explained her new tattoo that's on her right hand and wrist. And it seems as though it's the real deal. The
same
tattoo that her "un-boyfriend"
Chris Brown
got at the same time as her
. She told
People
on last night's Gucci for UNICEF red carpet that she got the tat in New Zealand very recently and it's a tribal symbol for strength and love. That speaks volumes since C Breezy has the same one and we all know--despite their denials--that they're very much a couple. Getting tatted up to match my "un-boyfriend" is not my cup-o-tea but to each her own. Rih Rih says it's the traditional New Zealand geometric design and she's always wanted one. But "it hurt like hell". Nice.
"Real Housewife" NeNe Leakes is talking about her new star status thanks to the Bravo show:
• "I have tons of fans who love me and come up to me everywhere I go." • "I've learned a lot of things about myself. I'm learning to be a little bit more patient. I'm learning to tone certain things down. I'm learning to be not as outspoken." • "My business has increased. My foundation Twisted Hearts brings awareness to domestic violence against women in the community. I have tons of people reaching out to me wanting to help me with my foundation. Had I not done the show, I would not have this platform." • "I have made new friends with the New York Housewives — Bethenny and Jill — and the Orange County Housewives. The one I love the most is Vicki. I've learned about my friendships that I've had throughout my life, too. There were definitely people that I needed to let out of my circle. So, I'm learning to keep my circle of friends very close. • "I'm not surprised that Anderson Cooper is talking about me! Wouldn't you talk about me? I'm not surprised. Anderson Cooper is gorgeous. He is THE silver fox, and I just wish he'd come over on this side of the street. And come over here and talk to me! Wendy Williams talks about me every single week. She sent messages to me. She said if she had to be any housewife it would be me. I'm not surprised. She has to change a few of her ways herself. We have a lot of celebrity people reaching out to us."
Honestly--this chick is one of the only reasons I can sit through the foolishness.  Well, her and the show being the proverbial train wreck that I just can't turn away from.