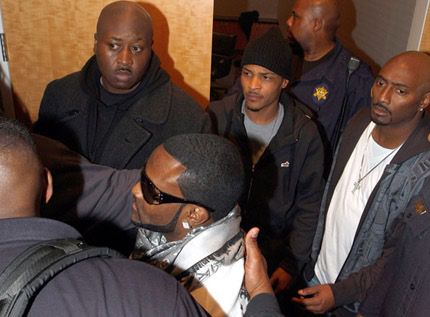 Who at Radio One is still allowing this hood mess called the Dirty Awards to even take place? They went down last night in Atlanta--it's the fourth year--and at the end of the show while
T.I.
was performing, a fight broke out in the audience.
Sources everywhere
are saying it was T.I.'s camp and their rival
Shawty Lo
's camp. They've been beefing over some B.S. for several months now and apparently it all came to a head last night. Even though they were both chillin' backstage according to the above pic.
As usual--I can't even tell what the hell is going on. But the video has all kinds of WTF moments. Why was homeboy laid out in front of the stage on the ground and no one cared? Why did T.I.'s performance continue when clearly chaos was breaking out below? The room was small as hell so it's not like they couldn't see everybody running. Who are these grown ass people still fighting at a damn awards show? Why were there 100 people on stage when only T.I. and Dro were the ones rapping? Too many questions, not enough energy to even care. Get it together peoples.