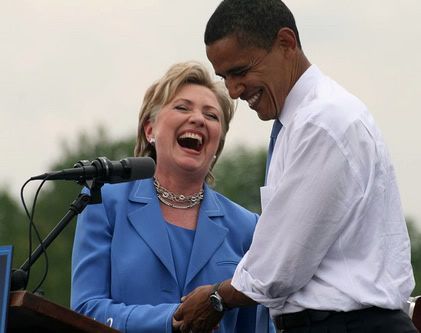 Our Prez-Elect has bestowed some Monday morning surprises on us. During a press conference just a while ago,
Barack Obama
officially nominated
Senator Hillary Clinton
as Secretary of State. He also nominated
Eric Holder
as US Attorney General--leading the US Dept. of Justice. Holder, if confirmed by the Senate, will become the nation's first black US Attorney General. Other confirmations: He kept Secretary of Defense
Robert Gates
in his position. And there's a new Dr. Rice that's going to become best buds with the UN. Mr. Obama nominated
Dr. Susan Rice
as Ambassador to the United Nations--one of very few, if not the only, black woman to ever hold that position. She's an ex-National Security Council member and former Assistant Secretary of State, and she's a Rhodes Scholar-turned-diplomat. It's clear that these folks are very qualified, but it's also clear some of these were simultaneous political moves. Why not hire your biggest competition (Hil C.) to your cabinet? People love job security these days and she's way less likely to run against him in 2012 this way. And Barack nominated Arizona Governor
Janet Napolitano
to his cabinet as Homeland Security Chief. Arizona is Barack's former competitor
John McCain
's home state. And Janet publicly backed Barack in the election. Well isn't this a nice Thank You. Smart moves....