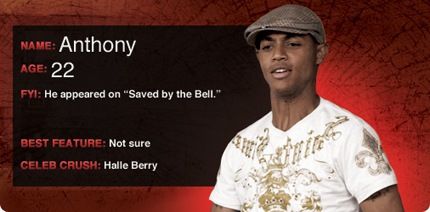 So we got a tip that some of these Bruthas from BET's show "Brothers To Brutha" are lying extra hard about their ages. The boy band
ish
group (
Brutha
) is being featured in a reality show right now on the channel and the mess is a pain to even watch. But we came across a little nugget of info about 1/4 of the group--
Anthony Harrell
. While BET and the group pub his age as 22 (above pic),
IMDB
--the official database of all actors and industry folks--lists Anthony as 31, born in '77. And if he was on "Saved By The Bell"--which aired like 10 years ago--I seriously doubt he did that show and all those other ones listed under his name when he was like 10 years old.  One show--"KIDS Incorporated"-- even has him on file as working in '84.  That would be before he was even born!  Same goes for a couple of his other "Bruthas"--filed as working on shows where they would have not have been born yet or too young to even be on if these fake ages were real. These dudes even
look
old as hell in the face. People really need to stop the stupid games and fake musical talent. This "let's make a fake reality show so we can act like we're a group and get some fame" tactic is beyond wack and overdone. Do better BET.