Note To Sheree Whitfield: Girl Stop.
Jan 08 | by Natasha
"ATL Housewife"
Sheree "I'm just waitin' on my 7 figure payout" Whitfield
is somewhere mad salty right now.  According to the AJC, she's appealing her divorce settlement in order to get more money.  But she already, in fact, was awarded approx. $1.1 mill when the divorce from her husband, ex NFLer
Bob Whitfield
was finalized back in '07.  Apparently that's just not enough for lil Ms. Sheree--who was ordered to leave the $2.2 mill house she was trying to stunt on people with during the Real Housewives show.  Mainly because it wasn't part of her divorce settlement.  The kicker is her lawyer's arguments as to why she deserves more money.  They're pretty much making her look like the helpless career groupie--and apparently she's ok with it:
Her attorneys argue that based on her lack of education and inability to earn income, the court abused its discretion by not awarding alimony and then ordering her and the children out of their $2.6 million home in Sandy Springs. Under state law, the trial court must consider a number of factors in determining the amount of alimony, including the standard of living established during the marriage, the duration of the marriage, the financial resources of each party and the time necessary for a party to acquire sufficient education and training to get a job. Her ex-husband not only received an $8 million signing bonus as part of a $30 million six-year contract, but he is also a sophisticated businessman with investment properties in Costa Rica, California and Atlanta, as well as founder and owner of a "world-class" recording studio, from which he draws $50,000 annually. To enhance his earning power, he has returned to Stanford University. She, on the other hand, has devoted her time to raising the couple's two young children. The clothing boutique she managed for a brief time, "Bella Azul," quickly failed under her management and oversight, her attorneys point out. With only a high school degree, she depended on her husband, with whom she had been in a relationship for 14 years. Despite her lack of education, marketable job skills and employment prospects, the court wrongly denied her alimony, even though her husband's monthly income is almost 12 times her. The failure to award alimony is also contrary to the best interests of the children, her attorneys contend. Without alimony, she cannot afford to buy another home in the neighborhood where they have grown up, have friends and go to school.
Talking a pile of sh*t and not backing a lick of it up. Playing the helpless groupie bullsh*t role in court? WTF?  And she has an "inability to earn income"?  I know paraplegics who earn a damn income.  GTFOH Sheree.  This type of ish is a pet peeve of mine and I could give a damn who has a problem with my rant. Posers make me itch and this chick is going for Queen Bee status of Camp Poser.  Y'all already know how I feel about the Housewives and them trying to act like they're richer than rich when hardly any of them have anywhere
near
the mula that they claim.  And have the nerve to try to be condescending to others--who probably have more money than
them
.   Your bad you didn't pull a
Shaunie O'Neal
and take your "allowance" money and flip it for your damn self Sheree.  All these damn bailouts must stop in '09.  We're still being selfish even when kids are involved?  Get a damn job!  Womp womp! More on this foolishness when you read the rest...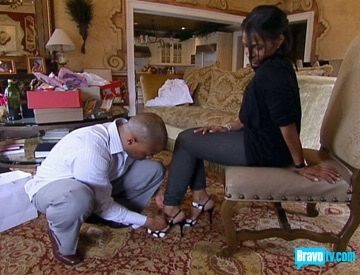 She may want to rethink her legal team and their tactics.  But if she wants to go out like the helpless gold digger who calls "working" being married for 7 years to a football player, and she therefore deserves more than the 48% she got, then to each her own.  But don't expect folks--who she loves to try to talk down to--to feel sorry for her.  So keep the hate mail.  Somebody's got to stop the Professional Extened Groupiedom Coalition from getting a Retirement Plan out of pure foolishness.  Just sayin... Bravo is starting the taping of Season 2 in February of "The Real Housewives of Atlanta".  We'll see who will be left standing by the time that actually rolls around.  Oh, and what is the chick whose lawyers say she has a lack of intelligence and no job skills setting up right now:
Girl stop!