R. Kelly
's divorce from his estranged dancer wife
Andrea
is now final. The two were married for 11 years and separated back in '05 when Andrea filed an emergency restraint order against the R. According to the joint statement from their divorce lawyers:
"The parties have reached an amicable resolution concerning all issues related to their marriage, and will share joint custody of their three children. The details of this agreement will remain confidential and the family requests that their privacy be respected during this time."
Damn R.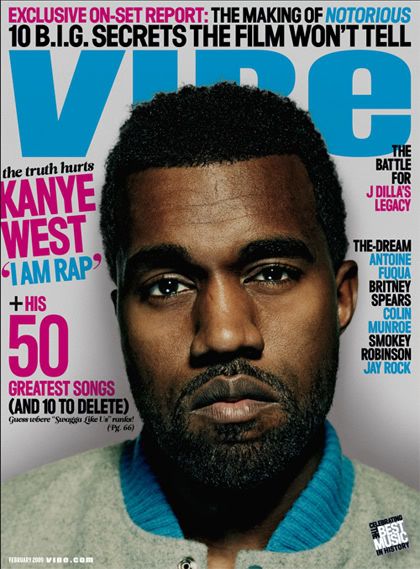 Kanye
is rocking the cover of the new February issue of VIBE magazine. 808's and Heartbreak is probably the best way to describe the month of love.  Kanye said in the issue that he is definitley willing to pose nude for somebody's magazine:
"I made a decision. I wanna make popular music, but I want less fans.  I want the freedom of having less fans. It's like the freedom of having less money. If you have less money, you have less responsibility. It's like Björk. If she wanted to pose naked, you'd be like, 'Oh, that's Björk.' But if I wanted to pose naked, people would draw all type of things into it. I definitely feel like, in the next however many years, if I work out for two months, that I'll pose naked. I break every rule and mentality of hip-hop, of black culture, of American culture."
And his take on the greatest folks in the biz:
"I believe Beyoncé is the greatest performer of our generation," he offered. "I believe I am the greatest entertainer of this generation. I go neck-and-neck on Jay-Z and [Lil] Wayne as far as who's the best lyricist. Jay-Z has longevity."
Interesting.
Tonight we can finally catch (or DVR) an all new episode of "The Game". In the episode entitled, "The Negotiation Episode,"
Derwin
(
Pooch Hall
) advises
Jason
(
Coby Bell
) to stop at nothing to win
Kelly
(
Brittany Daniel
) back and put an end to all the divorce talk, but Jason's grand gesture may be too little too late for Kelly. And a source on the CW publicity team just divulged to us that
Lisa Bonet
's husband
Jason Momoa
will be guest starring--and possibly for 3 episodes. He's set to play the love interest to Kelly.