Rihanna: GTF Away From My Man Alexandra Burke!
Jan 12 | by Natasha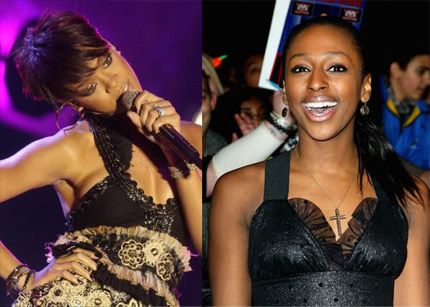 SMACKDOWN! 
Rihanna
has apparently tightened her leash on her man
Chris Brown
.  Remember the winner of UK's "X-Factor"
Alexandra Burke
?  Well apparently Ms. Alexandra has made no mystery out of her lust for Chris Brown.  And back when she was a lowly X-Factor contestant it was just cute and funny.  But now that she's shooting to superstar status, Rihanna is putting the brakes on Alexandra getting anywhere near Chris. Word has it Rih Rih banned Alexandra from coming into an afterparty for Chris this weekend in London:
"Alex was mortified. She had no idea she had been banned from meeting her idol. "She's a massive fan of Chris Brown – she said numerous times on The X Factor how much she fancies him and wants to meet him. "Since she and Chris are both with Sony, she asked label bosses if they could arrange for her to meet him at the after-party. "They said that was fine, they would sort it out. "Poor Alex was so excited about hooking up with Chris that she was even thinking of entering a radio competition to meet him."
Damn.  "Just friends" huh?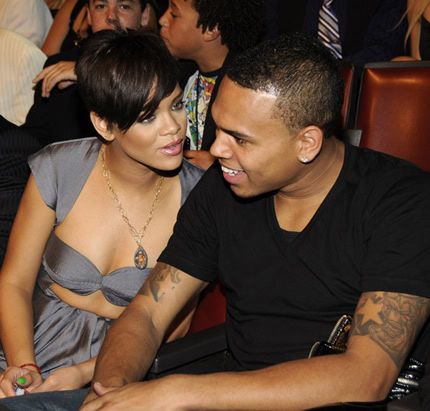 And Rihanna is just not having chicks at all around her un-man man.  Apparently when chicks are all dancing in the club and they mosey their fast asses over to Chris, Rihanna puts the smack down on that ish real quick.  Sources say she has banned any females in his entourage from being alone with Chris while he's out performing in different cities.  Snd she even changed her whole schedule around to go "visit" Chris at his "Freeze" video shoot.  Tighten that damn leash girl. 
Drama
! And what does Chris have to say about all this?: