Sigh.  Some things just are not about to change in '09:
Ray-J
's new reality show is officially official.  It's called "For The Love Of Ray-J" and premieres Feb. 2nd at 10:30/9:30pm cst.    He's already named his girls and they're some doozies--upgraded from ish like
Seesinz
and
Buckeey
.  He's got
Caviar
and
Cashmere
and
Unique
and others. 
Check out VH1
for the rest of the up close and personals with the "ladies".  Ray-J insists that his sow is the un-Flavor of Love and he respects his girls--and brings them on upscale trips like helicopter rides.  Stop laughing.  Make that money Ray-J.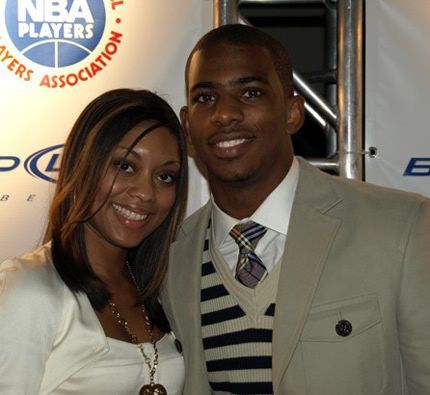 In other news, a story hit the net about my crush NBA baller
Chris Paul
and his girlfriend's new pregnancy.  That story said it was planned and the two are happier than pie--even though N.O. Hornet Chris may get disowned from his fam a la
Kobe Bryant
.  But we've got the real story from our source back home in New Orleans who is extremely close to the situation as well. Allegedly nothing was planned, and the girlfriend, Jada, has been trying to "trap" Chris for years, and no one except for Jada is happy about this situation.  Our exclusive lowdown is after the jump...
First of all

Chris

has not been with Jada since college, he dumped her when he first got into the league to date other women and just got back with her

this past year. Second, the pregnancy was not planned because he wasn't so happy about it at first but he eventually warmed up to it. Third, his entire family can't stand her ass! Have you ever seen a Hornets game where she sits next to his family? No, there is a reason for that. His family usually sits courtside while she sits higher up all by her lonesome. His mother cannot stand her, she does not even speak to her. All of this is hoopla has been put out by Jada and her new bff Kim Kardashian because she has such low self-esteem (so many people have told her that the relationship with

Chris

will not last, even his own mother). Notice how Jada cut her bangs to look like Kim's? Honestly I am sick of her playing her little games; and I for sure know that his entire family is also.

She was supposed to be on birth control, that's why so many people, including

Chris

, were shocked to find out that she was pregnant. But mysteriously, she "missed" a couple of days from being on the pill. What a coincidence that once he gets back with her, he becomes a mega star and not one

month after he signs a $68 million contract extension, she gets pregnant. No this girl knows what she is doing and is ensuring her future along with her parents' retirement from the carpet cleaning business. She wanted to keep her upgrade from her Honda to that Mercedes

Chris

bought for her. He dumped has her a couple of times to date other women, she's just trying to make sure she sticks now.

I feel sorry for Robin

Paul

because now she has to forever deal with the woman who has hurt her son before. Jada may have been there before

Chris

was a mega star but she knew he was going into the league at least and she does have a pension for getting with athletes. She has quite a reputation back in Winston Salem. I'm not doing this to bash anyone or their "image" but someone has got to speak the truth!

Chris

is a good Christian who goes to church regularly, he is in no way perfect but damn he is not going around making babies just for fun. What multimillionaire athlete would be that stupid to have a baby purposely with the woman who has broken your heart in the past, who he has dumped, and who is detested by his own mother. And for the record, he is very close to his family, he's not going to leave them hanging like Kobe did his own.
Apparently Chris' mom Robin is extrememly upset with Jada over the situation and is even more mad Jada is putting out "press releases" to sites saying this pregnancy was planned.  Damn.  This jumpoff turned official girl turned baby mama hustle is real in the '09.