Daily Obama Juice
Jan 14 | by Natasha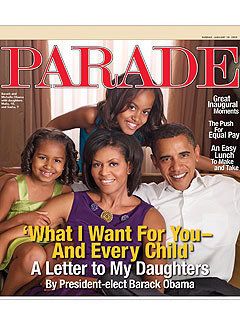 Prez Elect Obama
has penned a swoonworthy letter to his daughters
Sasha
and
Malia
.  And it will run in the new issue of Parade magazine.  He spills his heart to them about why he took the family on this journey, why he spent so much time away from them while on the campaign trail, and why he want to be President.  Here's a snippet:
I know that you've both had a lot of fun these last two years on the campaign trail, going to picnics and parades and state fairs, eating all sorts of junk food your mother and I probably shouldn't have let you have. But I also know that it hasn't always been easy for you and Mom, and that as excited as you both are about that new puppy, it doesn't make up for all the time we've been apart. I know how much I've missed these past two years, and today I want to tell you a little more about why I decided to take our family on this journey. When I was a young man, I thought life was all about me—about how I'd make my way in the world, become successful, and get the things I want. But then the two of you came into my world with all your curiosity and mischief and those smiles that never fail to fill my heart and light up my day. And suddenly, all my big plans for myself didn't seem so important anymore. I soon found that the greatest joy in my life was the joy I saw in yours. And I realized that my own life wouldn't count for much unless I was able to ensure that you had every opportunity for happiness and fulfillment in yours. In the end, girls, that's why I ran for President: because of what I want for you and for every child in this nation.
Read the rest
here
.  Let's all say it together..."Awwww."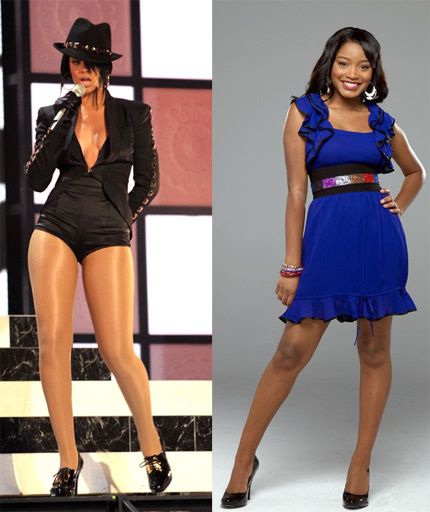 Looks like the Kids' Inaugural Concert will be just as star studded as the other balls.  The Jonas Brothers, Miley Cyrus and Bow Wow are set to perform with
Rihanna
, Billy Ray Cyrus, Keke Palmer, Usher and Shaquille O'Neal who are all scheduled to appear. The Kids' Inaugural Concert airs exclusively on Disney Channel Monday, January 20.  Nice.