Inauguration Fab
Jan 15 | by Natasha
It's about that time.  Inauguration weekend is here and look who's been commemorated in wax: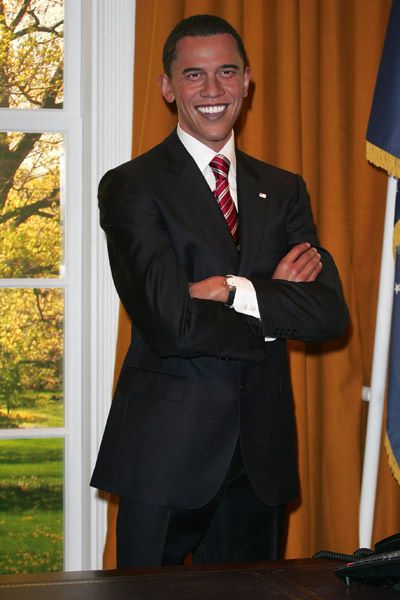 Madame Tussauds in London has made this exhibit in honor of this weekend. 
Prez Elect Obama
is hot even when he can't move. And YBF will be in full effect this weekend at several Inauguration activities.  Here's a brief rundown of some of the events we'll be at:
Come party with us,
Lance & Eva
, and celebs at Station 9 Saturday night. 
Nate Enzo
of
Talk of DC
always brings the hotness. 
Click here
for several other parties going on.
Friday, January 16, 2009
A Historical Affair Dinner and "Just Desserts" Gala
Natasha of TheYBF.com is being honored by the National Congress of Black Women for her work during the Presidential election. Other honorees include
DJ Beverly Bond, United States House of Representatives Maxine Water, Carolyn Kilpatrick, Donna Edwards, Sheila Jackson Lee,
just to name a few. The feature event of the package is an awards dinner that will honor the hard work of the campaign advisors and the grassroots organizers who paved the path to victory with a first rate line up of guests, elected officials and celebrity hosts.
Click here for tickets
Sunday, January 18. 2009
"The ROOT Inaugural Ball" hosted by TheROOT.com (Washington Post).
Ceebrity Guests:
Oprah
and many others Invitation Only

Monday, January 19. 2009
Click here for tickets.
Many levels are already sold out. Celebrity Guests:
Ashanti, T.I., Young Jeezy, Dave Chapelle, Missy Elliot, Mos Def, Ray Lewis, D. Woods, Bow Wow, Russell Simmons
, and many more. TheYBF.com is a premiere online partner for the HSAN Ball.
Tuesday, January 20. 2009
Official Presidential Swearing-In Ceremony We'll be on the capital lawn, close enough to ogle
Michelle O.
's Inauguration look we're all anxious to see. Of course, mad coverage will be right here on TheYBF.com from all the events. Let the fabulousness ensue...