Ish Talkers: Khloe Kardashian Says Stop Hating Her Swirl+Charli Baltimore Gives The "Real" Scoop About Biggie
Jan 28 | by Natasha
So
Khloe Kardashian
"needed to vent" and posted some words on her site yesterday about people not respecting the sanctity of her and NBA baller
Rashad McCants'
interracial coupledom. She says:
My site has been bombarded with cruel and unnecessary remarks about race and I can't sit back and keep my mouth shut any longer. I personally am shocked that in this day and age people are still so judgmental and racist — it blows my mind! I was raised to believe that all people are created and viewed as equals and never judged by something as meaningless as the color of their skin! I guess I am blessed to have parents that didn't brainwash me and cloud my thoughts with their petty views. I was raised to judge a person by their spirit and heart. I base my opinions of people by how they treat me and others. Point blank! How does one person's color,… …weight, height, language define who they are? It is sad that people are so mean and so willing to promote their ridiculous views! It's almost like they think it's cool to be racist and prejudiced. Leaving comments like that are just wrong! I love all my fans, I really do! And I love when you guys defend your opinions but I can only read so much foolishness before I feel I have to say something. I hate erasing comments that you guys post because I want you all to feel like your voices are valid but some comments are so brutally heartless that I have to get rid of them. I feel like I am playing a game that I can never win — if I hung out solely with my own race then I myself would be considered racist and someone would comment on that issue. If I have friends of all different races, then what? Is that unacceptable too? I have friends of all different races and ethnicities and I am blessed to be exposed to so many different cultures — I wouldn't change it for the world. If I want to date a man that treats me great, then I will! I don't care what color his skin is as long as I am treated and loved the way I want. If I want to be friends with someone who is loyal and lives up to my expectations of a friend, then I will! I don't care what she looks like. People, we have so many other things in this world to focus on. Get a life! And if you don't like who my friends are or if you don't like who I am dating then get off my website! It's that simple!
I feel you and all Khloe. But it would have been way less hypocritical if you weren't just on the
Chelsea Handler
show going on...and on...and on about how you
only
do black guys. Just sayin'...
Charli Baltimore
's speaking out about
Biggie
when you read the rest...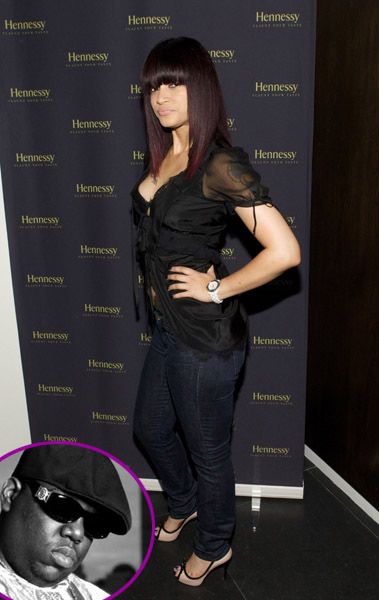 Charli Baltimore is not feeling the new
Notorious
movie.  Surprise surprise.  She did an interview with AllHipHop recently and said the movie should have never been made by
Mrs. Wallace
--only
Faith Evans
.  And she refuses to see the movie because it's "unrealistic".:
AllHipHop.com: People have been questioning why you were left out of the film.

Charli Baltimore: From what I'm understanding, the one particular scene which I guess bothered me more than anything was that me and B.I.G. were in a really, really, traumatic car accident. I almost died in that car accident and for them to downplay it—and again I didn't see the movie so I don't know how much it's downplayed or not—but for them to downplay it the way that it was, the way that it occurred…it bothered me. That's what probably bothers me more so than anything. I don't usually do too many interviews regarding Big.

AllHipHop.com: Were you asked at all to have any input in this movie?

Charli Baltimore: I was never asked to have any input in this movie and I do know the person that was putting this movie together and actually me and him were tight, so I have a little issue with that. That person also, he knew Big but he didn't know Big like that. It's funny to me, the people that put this movie together, it's almost like they were picking and gathering information and like sticking it together and it's not accurate. I don't need to see the movie to know that it's not accurate so, it is what it is.

AllHipHop.com: They showed some violent scenes between Lil' Kim and Big. Did you witness any of that?

Charli Baltimore: The only violence I ever saw was a situation where Big and I were together on the bus and my clothes were strewn all over the bus and I couldn't figure out why…I didn't know what was going on at the time. I said, "Why are my clothes all over the bus like this? They were folded up nice and neat." We were in the back of the bus and I walked off the bus and when I was coming back on…Kim was getting kicked off the bus…foot to her butt, onto the ground. She had rummaged through my clothing, Big was upset about it and he kicked her on the butt off the bus. That was the only violence I've ever seen between them.
Damn
Kim
.  Check out the whole interview over at
AllHipHop
. She also thinks she was Biggie's
only
official girl.  Damn what voo-doo Vitamin D was
Biggie
puttin' on these chicks??  By the way, Charli's 18 year old daughter
India
(yes, she had her when she was 14) is an Abercrombie and Fitch model now.