In Case You Care...
Jan 29 | by Natasha
Dawn Richard
of
Danity Kane
has confirmed
what TheYBF.com broke first
several months ago. Danity Kane is o-vah and she's pretty much the last one standing. Which-- naturally--leads to a solo career we all know
Diddy
is about to exploit. She and
Aundrea
are the only two going to be featured on the new season of MTB along with the boys of
Day 26
. But Dawn says Drea was gone a lot handling some "family issues".  We all know
Aubrey
and
D. Woods
got the boot a few months ago.  And Dawn confirms that
Shannon
has left as well--like we reported months ago. And we still stand by the fact we've been told Mrs. Bex is going to do a country album. So that leaves Dawn by her lonesome. She's not happy about it and tells MTV:
"As of right now, [Danity Kane doesn't exist].  It's devastating for me." "We are the only two that showed up," she said. "The thing about it ... I thought we were all going to come back and talk, or maybe if Aubrey didn't come back, 'cause I don't know how Puff was feeling about that, if the four of us got together. I didn't know what to expect. I just know I got off the plane and found out I was the only one there and Drea came the next day."
Sounds like
what we pretty much said
was going to happen. Once again, our sources ended up correct--despite almost everyone calling us a liar and casting doubts. As usual.
We hear
Nick Cannon
is set to direct his wife
Mariah
's new music video for the song "My Love."  Let's see if business and pleasure can really mix well...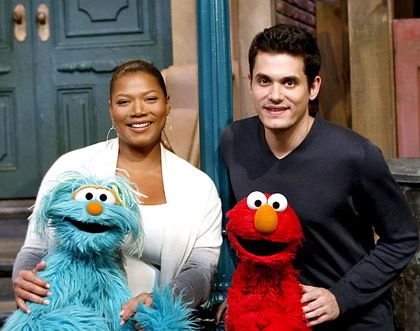 YBF chick
Queen Latifah
and
John Mayer
have taped a Sesame Street primetime special about military families, airing April 1 on PBS.  Nice.