Political Fab
Jan 29 | by Natasha
Jessie "One Teardrop" Jackson
has written a letter to
President Obama
. It's posted over at
Essence
. And the Reverend is asking the new Prez to carefully examine policies relating to the economy, education and Voting Rights Act.
Congrats to President Obama on his first major policy win. His $819 billion stimulus plan (WTF does $819 even look like?) passed through the House last night with nan support from the Republicans. Just one of the benefits of a Democratic controlled Congress. Obama wants un-employed Americans to be able to get back to work and ll Americans to start spending in our economy again.
This plan is supposed to help those things
. Now the bill goes to the Senate. More ish when you read the rest...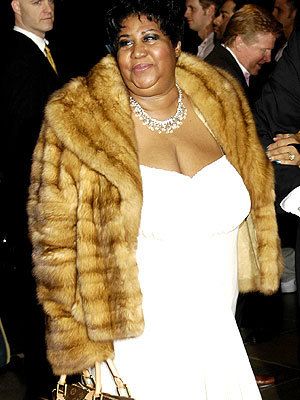 PETA must not know 'bout
Mama Retha
. They've been coming at her for years about all her furs and such. But now, her Hollywood Walk of Fame star has been tagged with the word "fur-hag" thanks to an anonymous anti-fur protester. PETA did the same to the
Olsens
and other folks' stars. Play with Ms. Franklin if y'all want....
BET's President and CEO
Debra Lee
was appointed to one of President Obama's roundtables concerning this much talked about stimulus package. Assembled at the White House meeting was all kinds of leaders from business and industry. And Deb was one of them. Not sure how I'm feeling about BET being in the mix. But I'll keep my concerns to myself this time around.... The Randomness: 1. For my fellow YBFers who care: Girl Scout cookies have been affected by the economy. They baked a whole lot less this year and won't even get to deliver to everyone due to rising transportation and baking costs. Damn. 2.
Minister Farakhan
went to visit former Detroit Player Mayor
Kwame Kilpatrick
in jail. By the way, Kwame is set to get out in a few days. Word has it he has a job offer in Texas. SMH.