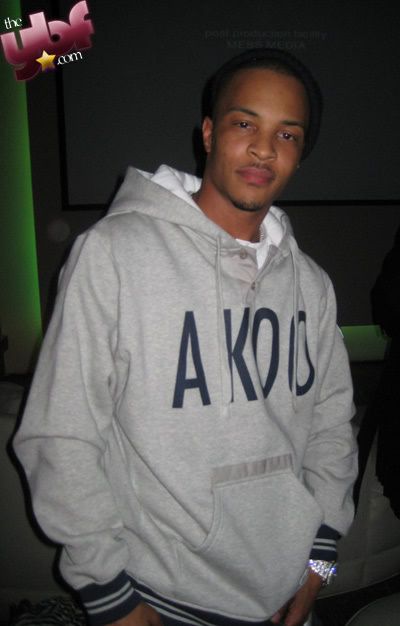 TheYBF.com's NY correspondents were on the scene at last night's exclusive screening for T.I.'s "Road To Redemption" MTV reality show. YBF had the chance to chit chat with the King himself, who was decked out in his own clothing line Akoo, as he dished a few goodies. He's opening up a new lounge in Atlanta, probably halting his next cd, and doesn't fear going to the slammer--at all:
On what scares him about going to prison:
I'm not scared of prison, but I'm anxious to get it over with and move on with my life.
On the rumors about him releasing another album before he goes to lockup:
I may or may not be releasing an album before the prison debut in March. I'm in the studio now, but the Paper Trail album is doing well, so I may just let it ride instead.
On his upcoming projects and business ventures:
I've got MANY current projects in the works. I'm wrapping up a film I produced called Tracker, developing another tv show with MTV, I'm designing my spring line of Akoo... I'm also opening a dessert and martini lounge in Atlanta, I'm running Grand Hustle sports management to help athletes diversify their portfolios, and then numerous community related projects with my foundation The King. I've been working with the Boys and Girls, Make a Wish, and others too.
More on this and a sneak peek of T.I.'s show when you read the rest...
Why there hasn't been a "Swagger Like Us" video:
The reason there hasn't been a video for "Swagger Like Us" is because the guys just can't get together. We can't keep Kanye in the country, we can't keep Jay off a boat, and we can't get Wayne off the (tour) bus. But we'll all be together for the Grammys. I doubt we'll even be able to rehearse because of everybody's busy schedules. We may just step on stage. (Laughs) [He promises surprises at the show though].
What he'll miss most when he's in jail?
"My kids, my family, my house, my cars, my food, my life."
T.I.'s words of inspiration:
"I'm going through it so you don't have to."
Here's our small glimpse (MTV will probably put the dogs on us if we let too much out the bag) into the docureality show: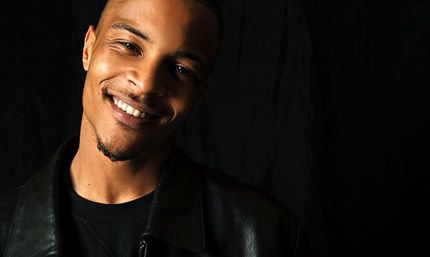 The background of T.I.'s case stems from the killing of his best friend and security detail Philant, who was gunned down at a stoplight after T.I. and his entourage fled a nightclub in Cincinnati on May 3rd, 2006. Because T.I. was trying to live right - he stopped carrying illegal guns. He said that the one time he really needed one he didn't have it, and that led to him being arrested by federal agents in Oct 13, 2007 for trying to buy illegal firearms to protect himself and his family. He was convicted and could have served up to 30 years in prison but he reached a deal - 1 year and 1 day prison time, 1000 hours community service, and 24hr electronic monitoring. He is currently free on 3 million dollars bail.
MTV approached TI about doing a show a la "Lil Kim's Countdown to Lockdown" on BET - except they were just going to put cameras in his house while he was on house arrest. TI thought it was BORING and said no. Instead he felt like he needed to heal and help other young men and women who were headed down the wrong path so they came up with the the Road to Redemption concept. The series will follow the lives of 7 at risk kids and T.I.'s quest to right their wrongs at a turning point in their lives.
The first episode is an intro to the case and TI's background. They show his family, Tiny who runs around with multicolored orange hair most of the time of course, and his six kids--and they show intimate moments at home and at his son King's birthday party. They also introduce an 18 yr old high school drop out and hustler from Atlanta named Pee Wee who started hustling after his dad was killed and he needed to take care of the family. TI steps in and tries to show Pee Wee the consequences of the life that he has chosen and sets out to put him on the right path.
We think the show is captivating and is worth watching. And y'all know how we feel about reality tv. The show airs February 10th at 9pm. You can get more info at http://www.ti.mtv.com