Morning Perks: 50 Cent, Lil Wayne & Bobby Brown
Feb 04 | by Natasha
50 Cent
has been named
the 2nd richest African American Entertainer by
Forbes
magazine.  The criteria
Forbes
used to rank folks isn't really that clear, but it seems like it could be based off '08's earnings only.  He made an estimated $150 million thanks to more Vitamin Water sales and other business ventures.  He's second behind
Oprah
and ranks ahead of
Tyler Perry
and others.  Maybe
Rick Ross
' baby mama should have asked him for some stock options
instead of those Gucci shoes and fur
.  Just sayin'...
Bobby Brown
is speaking out about
his pregnant girlfriend
Alicia Etheridge
.  He tells
People
, that he's "really excited about the new addition" and his lawyers say they're happy because he's actually sober and clean.  I guess that's a cause to celebrate.  Congrats to Bobby and Alicia.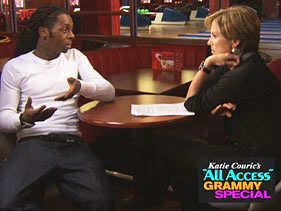 Katie Couric
hit up "Regis and Kelly" today and spoke about
her Pre-Grammy interview special
(airing tonight) with
Lil Wayne
.  She admitted that she
was
scared of him.  Until he said "Ms. Katie, I'm a gangster."  She says the fact he called her "Ms. Katie" and was so nice and polite, she loosened up.  Ha.  By the way, she dished that Weezy owns his own line of bowling balls and bowling gloves--that's why they chose bowling as their interview activity.