This Reality Ish Is Just Getting Reckless Now...
Feb 05 | by Natasha
Siiiigh. Our reality show dreams have come true. Or not because the reality shows are still here.
T.I.
's baby moms
Tiny
was caught on video doing a phone interview with
Jamie Foster Brown
about her upcoming reality show. Apparently it's going to be her and a few other "ATL moms" just showing their lives and being "hot moms" as she says. This must be what she and
Antonia Carter
have been filming. Please check the vid. Paraphrasing Tiny just won't do it justice. I
will
say this show will probably be more entertaining than that knock off ish "The Girlfriends of Atlanta" fu*kery. The whackness of them was clogging up my site hence me removing the post. Plus those chicks were heated about YBF readers going off about them and calling a spade a spade. So instead of offering them any more publicity--they've been cut off. Womp womp!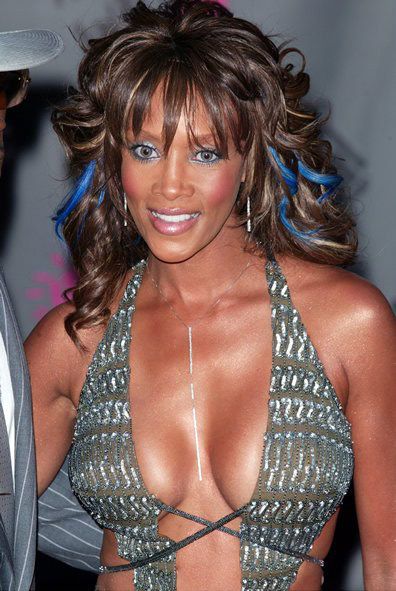 In other reality show news,
Vivica Fox
is getting yet another show. I guess the people in tv land are really trying to make a show with Vivica in it work. She'll be hosting a dating show for older women called "The Cougar". I would crack a joke but it's just entirely too easy. And that's no fun. But if
Curtis Jackson
makes a damn surprise appearance, I'm ending sh*t with Comcast immediately:
The 44-year-old actress has signed on to host a one-hour reality show for TV Land called 'The Cougar' that will show an "accomplished, beautiful and sexy woman" of a certain age as she looks for love from a pool of eligible younger men. "I'm so excited to be the guide for 'The Cougar's' quest for love," said Fox. "This show will prove to be empowering and enlightening for women everywhere. Plus, 20 hot guys gathered under one roof doesn't hurt!"
The show starts in April.
Black Voices
has the rest of the scoop. The Randomness: 1. Check me out on WEEN Radio's Pink Suite TONIGHT at 9:30p est! You can listen to it online at
BlogTalkRadio.com/weenradio
. I'll be chit chatting with the ladies of the Women in Entertainment Empowerment Network about building my business and developing an empire.