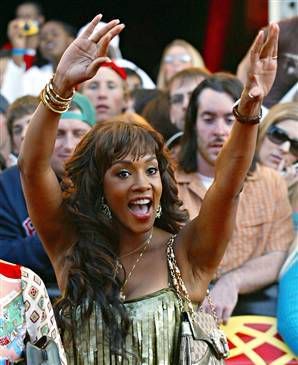 There's too many Divas in YBFville this week.  We're told
Vivica Fox
was cuttin' up in Iowa recently at the African American Film Festival (yes, black people do live in Iowa).  A member of the Film Fest's production staff dished exclusively to TheYBF.com that "Vivica was a H.A.M." and was extremely unprofessional and disrespectful to almost everyone around her.  According to our source, she didn't even show up to one of her contracted appearances, and proceeded to curse everyone out around her when she showed up to the second one:
First, she was contracted to do 2 appearances - a gala on Friday and the main event on Saturday. She and her people changed the FIRST CLASS tickets without telling us and didn't show up on Friday. The event started at 7pm and we didn't find out until 5pm that she wasn't going to be here.
And it doesn't end there. Our source says:
Second, we had one of our African American state representatives pick her up and she was INCREDIBLY rude to him. She got in her green room and was rude to the executive director of the festival (cursing and fussing), and was rude to her own people. She didn't want to do her contracted autograph session either.
This is just not her best publicity week--first the Psychic Friends Network tries to play her, then "The Cougar" show looks like foolywang material, and now this.  Thankfully this foolishness didn't ruin the whole Festival and all the other celebs were being their fabulous selves.  Auntie Viv-girl stop.
UPDATE
: Vivica Fox's representative has given us an official statement refuting the alleged actions:
Not only did Ms. Fox go above and beyond her contracted agreement..She delivered a powerful inspirational speech for the youth about God and the newly elected President Obama. Ms. Fox spoke [to] and greeted a standing room only audience for over 30 minutes with an autograph session immediately following her presentation. Yes, due to her shooting schedule for her new show Cougars, Ms. Fox was unable to make a 5-7 minute appearance on Friday. However Ms. Fox did not only commit to the required 70 minute Saturday event...She actually did 90 minutes. The State Representative Samad, her driver, was a HUGE fan of Ms. Fox and truly enjoyed Ms. Fox's appearance.