Our friends in the L.A. division of the U.S. Attorney's Office (who actually takes on most of the cases of the Los Angeles County District Attorney) tell us
Chris Brown
very likely won't be popped with
any
jail time after the assault fall out with
Rihanna
.  Why, you ask?  We're told  the LAPD & D.A.'s office tend to fall back on domestic violence cases.  Apparently if couples are attempting to work problems out themselves, victims historically become more forgiving, therefore leading to them dropping charges.  Of course, other types of consequences are pretty likely.  Very interesting... In other news, LAPD sent the DA's office all the evidence they had against Chris; however, the DA's office sent the case
back
to the LAPD.  We're told the reasoning is not only to "work on it more", but at this time there is currently not enough evidence to charge Chris with.  Apparently the D.A.'s office was attempting to nab him with domestic violence, battery, and a whole slew of other charges. And LAPD
now confirms
that Chris Brown received a text message from a woman while he was driving with Rihanna and that's what started the confrontation that left Rihanna battered and bruised. The person who texted Chris is NOT a rapper, even though a rapper is spoken about in the police report. More ish when you read the rest...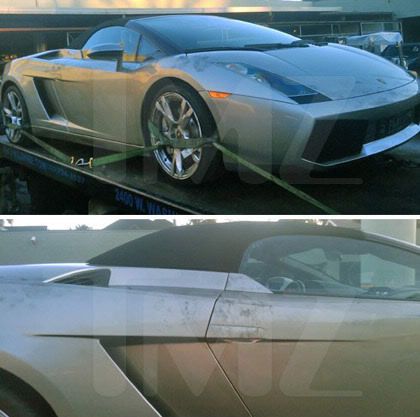 Chris' Lamborghini was dusted for prints when it was brought to the impound.  This is the car the assault incident allegedly happened in. Meanwhile, Rihanna reportedly pulled out of her show in Jakarta, scheduled for tonight, citing "an assault case involving Rihanna's boyfriend."  This is just the latest in the several events she and Chris have been pulling out of.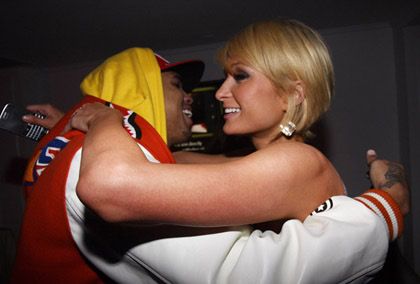 And by the way, I told y'all,
right here
, that this picture would
cause drama
. Now folks are saying part of Rihanna's pissiness was because Paris was all over her man that night. SMDH.