Now Chris Brown's aunt Christine is hopping in the mix. She called into the same station as Chris' former step-dad and pretty much called step-dad Donnell a liar as he said he never beat Chris' mom. The radio host also pulled court docs saying he was indeed charged with abusing Chris' mom. So he lied to Access Hollywood last night and to folks on the radio. He also told Access Hollywood that he tried to commit suicide a while back because of all the drama in his life and went blind because of it. *blank stare* Something's fishy about all this ish. Christine did defend her nephew and said the step father was horrible to him.
Here's the audio: [audio:chris brown aunt clip 1.mp3]
Shout out to
TT Torrez
over at
iPower92
for the audio. You can check out more on this interview
over at The Urban Daily
as well.
As for the rest of the drama unfolding, word has it Rihanna's working pretty hard with LAPD to build a complete domestic violence case against Chris. So it's now come out that LAPD has already had to deal with Chris on some domestic violence issue. Apparently, the police were called out to his hotel room when people called the cops after hearing screaming and breaking dishes:
"He was fighting with his mom. Neighboring hotel guests alerted security and they came upstairs to the room, saw the broken dishes and the mess, and then asked his mother to leave the room. Police were then called, but charges were not filed as Chris simply paid the hotel bill and left the hotel."


Damn.
And Jay-Z's pissed too. More on all this and more when you read the rest...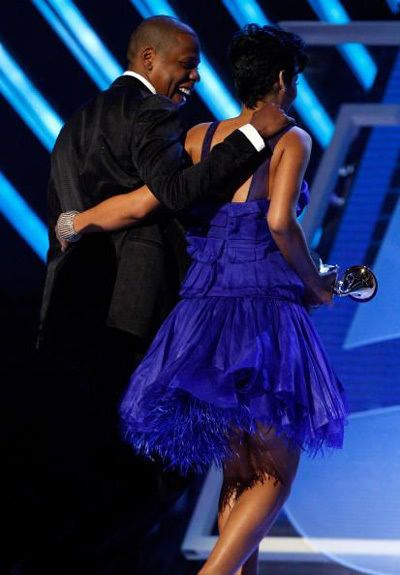 We're hearing rumors of Jay-Z putting out threats on CB. Us Weekly magazine reports: "He hit the roof. Chris is a walking dead man. He messed with the wrong crew." I did hear something very similar Sunday night from YBF's own source on the Grammy red carpet. So I wouldn't be surprised if true...
Meanwhile, Terrence Howard has retracted his statement about the situation. He says he didn't know the full extent of what happened before he commented. T.I. did the same this week as well.


And Leona Lewis' rep has put out a statement that her client had nothing to do with sparking the incident:
"Leona was at the pre-Grammy party with her family and boyfriend and had nothing whatsoever to do with any argument that may have ensued between Chris and Rihanna. Any allegations that the pair had flirted are completely false."
Paris Hilton, Keisha Chante, Teairra Mari, and a few other ladies have also been thrown in as being tied to the case. Very likely it's all untrue though.