Chris Brown
's ex step-dad
Donnell Hawkins
is serious about his 15 minutes of fame: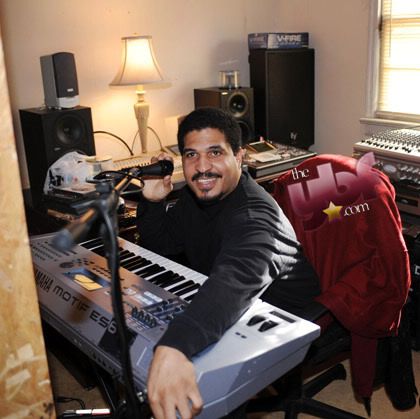 He let cameras come into his home to snap some pics of him to be circulated around.  And during his Access Hollywood interview last night, he disputed Chris' claims of being abusive toward Chris' mother.  And he also detailed his suicide attempt explaining whiy hes now blind.  And from the look of these pics, the only thing he probably wasn't lying about was the blindness.  On a side note, is this dude trying to get a music career poppin' off?  That first pic makes us all go Hmmmm... By the way, we've added the audio of Chris Brown's aunt
Christine
calling this dude ou
t right here
.
Kimora Lee Simmons is the next designer to somewhat back out of NY Fashion Week.  Usually the Baby Phat show is one of the last and largest and most flashy and celeb ridden shows of Fashion Week.  But this year, Kimora says she shouldn't be flaunting around money that they don't have for friends that won't even be buying the ish:
"Now's not the time to be running all over and flaunting the money that we don't have," Ms. Simmons says. "Now's not the time to have all these people come to the show who are coming because they're your best friends — the people who need to be there are the buyers who need to see the clothes, the editors." "It's going to be small, intimate" she says, describing it as a quick "have a drink, thank you, I salute you, but OK, now we have to go home" affair.
Source
Apparently she's moving her show to a much smaller venue, away from the Tents, and only inviting buyers and editors.  It's a recession snitches!  Fashion Week is looking mighy floppish now that several of the top designers have either completely pulled out or dramatically downsized.