And It Wasn't The First Time...
Feb 14 | by Natasha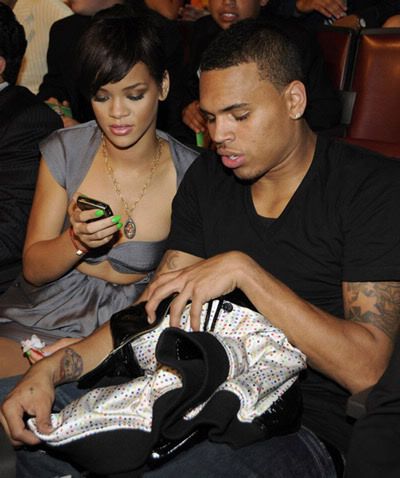 Los Angeles police are reportedly investigating the possibility of a history of heated scuffles between
Rihanna
and after
Chris
' alleged attack on his girlfriend at the weekend. The probe comes as it was revealed by police sources that the Umbrella hitmaker was forced to wear an eye patch last year after suffering an alleged scratched cornea. I wonder if it was when she performed with that bedazzled eyepatch. And now officials are set to look into whether Brown caused the star's previous cornea injury, reports Britain's The Sun newspaper. A police source tells the publication that they're investigating if her eye injury could have been caused by Chris. She is now being asked about her past injuries and is beginning to open up about incidents in their relationship. The tabloid alleges that Rih was reluctant to file a police complaint after the weekend's incident - but was persuaded to by her mom Monica. And cops are now reportedly talking to those close to Rihanna about an alleged history of injuries. Apparently they are talking to her friends and management, who say she's appeared with mysterious marks or injuries before, but always refused to explain what happened. There was one instance when she suddenly appeared with an eye patch, saying her cornea had been scratched. Womp. In other news, Chris is leaving Vegas today to meet up with his mom--no word if they're meeting up back in Chris' hometown of Tappahanock, VA. Rihanna is suposedly en route to Barbados. The Randomness: 1.  WTF?  A 13 year old dad who looks like he's 8???
Story
2.  An update on the plane fatal crash in Buffalo, NY
is here
.