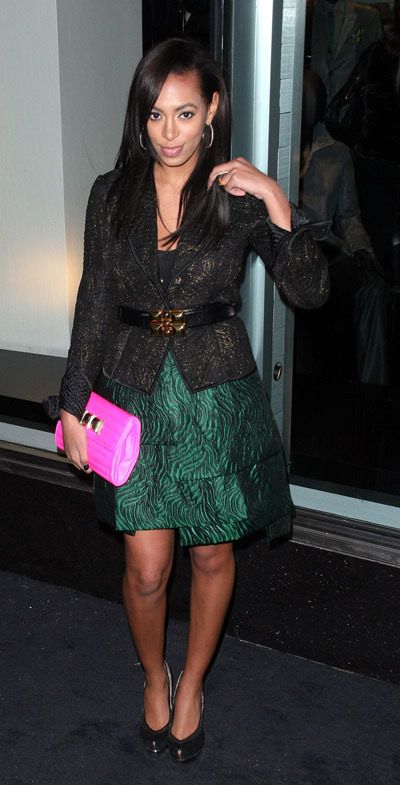 Solange Knowles
was treated by medics after taking some flu meds onboard her flight from NY to LA last night and then suffering an adverse reaction to it.  And just when we thought the Twittering/Facebooking/Myspacing was starting to get out of control with the extra personal info (like births and ish) while the very things are happening, it continues. Solo posted a bunch of odd Twitter and Facebook messages while she was aboard the plane, while she was in the hospital, and then when she left.  Three hours into the trip, her messages suddenly stopped after she complained of feeling sleepy - and three hours later she logged back on to the website to tell fans: "Woaah...... How'd I end up in the hospital?" During the flight, she told fans she had swallowed NyQuil tablets to treat a cold.  She wrote:
"I took a nyquil and i think maybe im getting high off it because im not sleeping. maybe i should close my eyes..."
Minutes later she added:
"think im certified loosing (sic) it on nyquil. going to sleep before i start freestyling on the plane... omg i didnt know nyquil could do this to you. i took the pills tho. cant stomach cough syrup. trying to be proactive on this flight." She then added: "Never taking nyquil again. I feel so weird."
More when you read the rest... Solo left further apparently random messages about various musicians and having "freezing" feet, before a break of three hours.  She then logged on again to tell how she had woken up on the floor of an airport surrounded by medics - but was later given the all-clear after her mother visited her in hospital:
"Woaah...... How'd I end up in the hospital? Woke up to 8 random people over me, laid out on the floor in baggage claim!... Guess I passed out! Scary. Hooked up to IV now . Apparantly I'm super dehydrated...I've never passed out before. S**t was like the movies. People standing over me saying 'hello'... My mom is the best. LOL. She's like 'Ain't nothing wrong with this girl, she need some water and rest... Pull up the car!' LOL "I'm like still in shock. I've never passed out before. Think it was the nyquil too. I felt weird when I woke up. This has been the day from hell. I'm done with the second IV. I just want to get in the bed and lay with (son) Julez. That's all I want."
She ended everything with: "I'm out! yay!... they let me go..... Rest. Water. Rest. Water."  Whoa.  Glad to see you're better Solo!