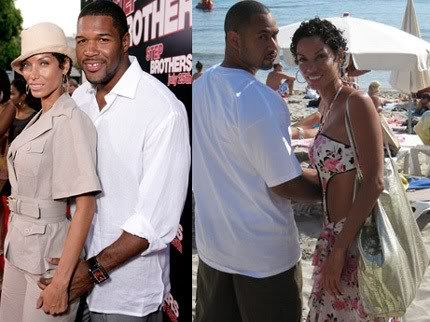 Men drama  just follows this
Nicole Murphy
chick.  Word has it
Eddie Murphy
's ex-wife has just split from ex-NY Giant
Michael Strahan
.  And it's because he was spying on her after he believed she was cheating on him with his friend Universal Records A&R exec
Demetrius Spencer
(above on right). Michael and Nicole have been together--and hitting every red carpet together--for a little over a year.  But apparently Michael is some extra suspicious boyfriend because he added a tracking device to Nicole's Range Rover twice.  He allegedly added spy devices to his ex-wife's car and his ex sister-in-law's  bedroom before as well. More drama when you read the rest...
According to the
NY Daily News
:
Murphy had been "hiding" her affection for Spencer from Strahan "for almost a year," the sources said.
Using the excuse of "business trips," a source said, Spencer and Murphy would jet off to exotic getaways in the Caribbean and Mexico.
For several months, the couple had exchanged gushing e-mails, professing their love for each other. In the notes, some of which were obtained by The Post, Murphy told Spencer she planned to come clean to Strahan about their relationship.
What "business" is Nicole even
trying
to lie about?  Nicole's reps aren't speaking on this, but Nicole's friends say she is upset that she and Michael are split because her 5 kids had become attached to him.  Drama!