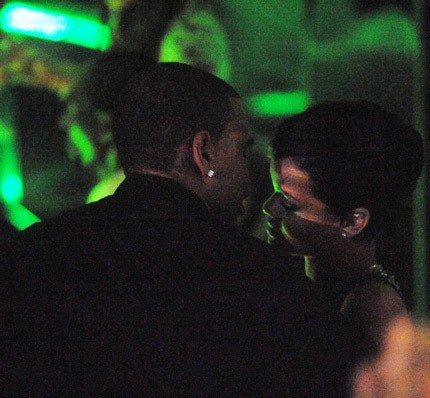 In an unsurprising turn of events, new police details have emerged.  Apparently reports that haven't surfaced yet show that
Chris Brown
claims that
Rihanna
hit and beat him first.  Apparently she has beat up on him a few times before where he just walked away, pushed her away, or up against a wall to get her to stop.  But that night in question is allegedly, despite previous reports, the first night he snapped and hit her back. 
Sources say
everything did start with a text message Rihanna found on his phone, she started to hit and beat him while he drove, and that's when he began hitting her back as described in the affadavit. Chris says because of all this, he'll plead to a misdemeanor charge with no jail time.  But his actions don't warrant a felony charge.  The flip side to this is the fact that Rihanna had much more severe bruises than him and he may have had the ability to just "leave the situation alone".  So a jury could still find him guilty of the felonies he's charged with.   And the fact that Chris sent a text message to Rih's assistant right after the incident apologizing for what he did, could implicate a full confession.  Time will tell... Meanwhile, credible sources are denying 100% that Rihanna and Chris are engaged, married, or pregnant.  Rih's father,
Ronald Fenty
, has been around Barbados and he is telling media sources he is still waiting to speak to his daughter for the first time: "All I have been seeing is the Internet reports. I am waiting on her to call me."  He also says tabloid reports have been misquoting him.