Rick Ross
has caught another L. 
50 Cent
is exposing his baby's mom--one of them at least--named
Brooke
.  And apparently she is/was a porn chick. After Officer Ricky told a radio station this week that if 50 was really gangsta, he would have tapped the one baby mama he flew up to NY and took shopping--and then put it on tape.  50 decided to scout out Brooke's tape instead, and he's set to release it on his new site BooBootv.  
Here's the NSFW screenshot
.  Some folks are saying it's not her. And some folks are saying not only is it her, but the man in the vid is a celeb we know.  WTF is really hood?
Chris Brown
manager
Tina Davis
' "denial" when you read the rest...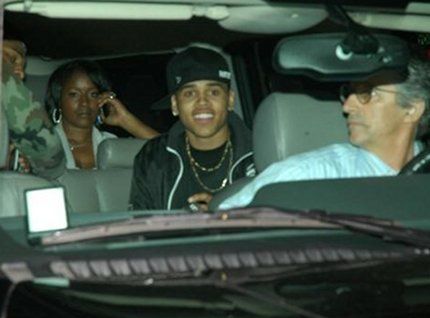 Tina Davis (in the back of the car in the pic above) is now denying any type of sexual relationship with her client Chris Brown.  And denies sexting (sex texting) him on the night he and
Rihanna
fought.  Sources previously reported that Tina Davis sent a multipage "intimate" text that made Rihanna pop off.  Here's her statement:
"The relationship between Ms. Davis and Mr. Brown is that of manager and client. There has never been any other relationship. The rumors in circulation are false. There are no emails between Ms. Davis and Mr. Brown of the type which have been described in media reports.
If the source of the false rumors is identified, legal action will be taken. Given the nature of the legal issues affecting Mr. Brown, Ms. Davis will not be making any further statements."
Ok Tina...