First Lady Michelle Obama & Her Mom Cover ESSENCE's Mother's Day Issue
Apr 07 | by Natasha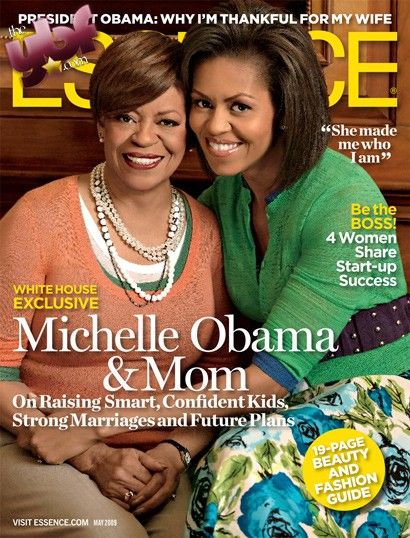 First Lady Michelle Obama
is covering the May (Mother's Day) issue of
Essence
magazine. And she's doing so, of course, with her fab mom
Mrs. Marian Robinson
. B.K.A. First Granny:
Click Thumbnail For Full Size
MRS. OBAMA ON... Advancing the Role Of Women Worldwide: "We have to talk about flex hours and exercise and nutrition and health and what that means. And we have to talk about values, and about our relationships with men. All of those are part of the conversation that I think we need to have, not just in this country but around the world." Combating stereotypical images of African-American women: "The women in videos and the stereotypes are just not the truth of who we are as a community. We already know that because we are living these lives every single day. It's nice to have this reminder in the White House, but I would say we don't need it…all you need to do is look around your own community and you will see this same family in churches and in schools." MRS. MARIAN ROBINSON ON… Advice on raising children: "The main thing that I think needs to be taught to children is the ability to think and make decisions. You don't have to have a lot of information, but you have to know how to get through the process. If you make mistakes you don't [just] decide I will never do that again." Enjoying life in the White House: "…I really am. You want to know why? Because my children are good parents. It makes it very easy to be a grandmother when your children are good parents."
Loves it. Behind the scenes pics and more when you read the rest... Behind the scenes pics from
Essence.com
: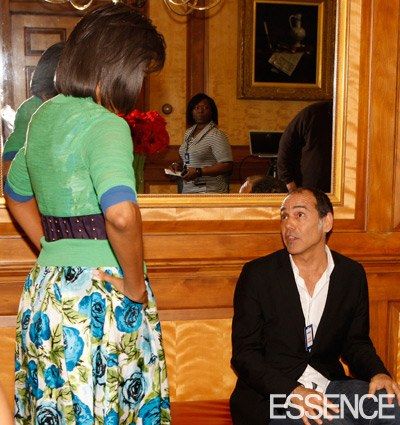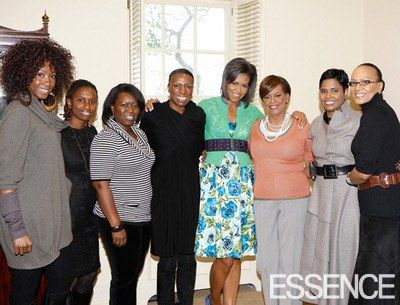 More quotes:
Essence: Mrs. Obama, what is your Mother's Day wish for your mother and Black women? Mrs. Obama: I want her to be as happy in her life as I am in mine. And she probably says the same thing about me, but I want her to enjoy the fruits of her labor. Because she has laid a foundation that to me gives her the right to sit back and enjoy. Mrs. Obama: "There isn't a relationship in a family that is more important than the relationship a child has with her mother, or someone in that role, and we have to value that. We cannot wait to value it, we've got to value it each and every day. I just wish for all mothers and children out there that they take the time to reach out, to forgive, to love, to share, to embrace. Because nothing in your life will ever be more important.
In this issue,
President Obama
submitted a Mother's Day message to all the women in his life called "A Mother's Day Message from Barack to Michelle": "Throughout my life, I have been blessed to be surrounded by strong, compassionate women--from my own mothers, sisters and grandmother to my wonderful mother-in-law and beautiful wife. They have worked and sacrificed to help me reach my goals, and I am determined to do the same, so that my daughters--and all our sons and daughters--can reach theirs."