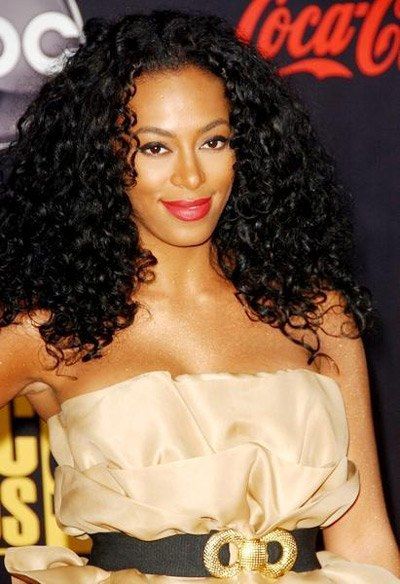 Well isn't this a juicy way to wrap up a day of gossip.  Sources are reporting that
Kelly Rowland
isn't the only one of
Mathew Knowles
kids *snickers* without a label home.  Apparently
Solange Knowles
was just dropped from her home at Geffen Records as well.  And it happened right around the time the rumors of Kelly being dropped from Columbia first started. The reason why the official statement from Columbia Records came out so quickly about Kelly leaving was not just to confirm the rumors and make the situation and drama  go away.  It was also to deter the attention from Solange as she quietly got dropped from her label as well.  Here's what a source at Geffen told
BV
:
Geffen did a one-off deal with Music World Entertainment for Solange and wasn't interested in doing a new contract with her. People at the label really liked working with her because other than her infamous news outburst in Las Vegas, she was a constant professional. There were challenges dealing with her camp, but Solange was great to work with. In the end, the CD didn't sell despite Solange's countless high profile appearances.
Womp womp. Honestly, Solo's
Hadley Street Dreams
album was hot and I still don't know why it sold only 138k units to date. Yet and still, her label isn't trying to keep her there. Her manager and dad Mathew has been shopping Solo to the folks at Epic Records. But get this: That's the exact same place Kelly Rowland has been in talks to go to. Epic's new Prez
Amanda Ghost
had approached Kelly about joining their label after rumors started Kelly was leaving Music World/Columbia.  It wasn't hard to figure out that once Kelly parted ways with Papa Knowles as manager, the label Papa Knowles is tied to (Columbia) would drop her pretty quickly thereafter.  So Kelly and Epic had been meeting for a long time now and she was close to signing an official deal with them. But that's until Papa Knowles entered the picture. According to BV:
Amanda was really into signing Kelly and then Matthew started meeting with her about Solange. I'm told he used his influence in the Sony system with Beyonce to complicate the existing offer to Kelly and then the deal ultimately didn't happen.
Dropped
and
backstabbed? With "family" like this...who the hell needs enemies?
*UPDATED*
Mathew Knowles' rep sent out the following statement:
"Our joint venture with Music World and Interscope/Geffen/A&M is very much in placed for Solange. We are currently experiencing success at video outlets and radio with the current single T.O.N.Y co-written by Ceelo of Knarls Barkly and Solange. Ceelo and Kid Cudi also appear in the video. It's very disappointing in recent days the amount of false statements in the marketplace from Solange being drop to me accused of being Kelly Rowland's father."
However, Black Voices says they still stand by their statement that Geffen is not interested in giving Solo a second album. Womp.