Afternoon Perks: How's Your Favorite Rapper In Bed? (NSFW)
Apr 10 | by Natasha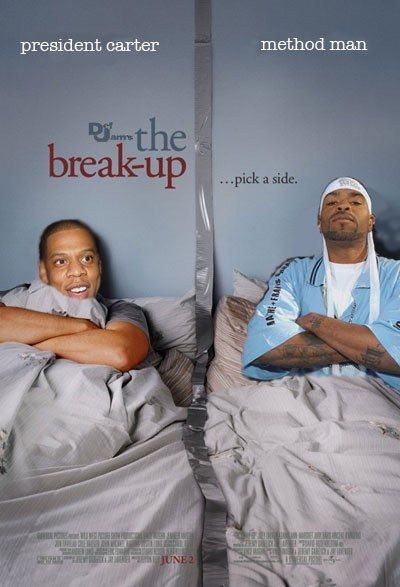 Now I don't usually post ish like this, but why the hell not this time? Groupies are trying to become literary poets these days and posting their sexcapades
on the net
. Plus, most of these stories line up with what many of my groupie sources having been telling me for years. So check it in all its rawness:
Jay-Z
Boring. The biggest d*ck you'll ever see in your life, but boring. Huge. Like a one-liter Pepsi bottle. What do you call those things? The 20-ounce bottle. It's beyond huge. It could block the sun. And he screams like a b*tch when he busts. It's horrible. He has a big, humungous d*ck and has no idea what to do with it. He always wanted head first, then back-shots. Then he'd always try and stick it in the asshole. I don't know what the fu*k he thought he was doing with that big-ass d*ck.
Andre 3000
Dude is really gentle, he's an easy lover. You can tell he's not into fu*king, but making love. I gave him a massage, admired his tattoo of the man, woman and child on his back, as well the 7 and star on his chest and the possum on his arm, played with his hair watched Mobb Deep performing on some late night show. He made me take off this crayola colored wig I had on (I was a weird dresser myself), and admired all the hair I had underneath it. He's a toe sucker and a FIRE-ASS pu**y licker! Andre is hung, and he knows it. He wears tight whites, too (so cute). So if you see a bulge in his pants, it's real, it's really real!! As for his technique, he's very easy going. I kind of expected some freaky-deaky voo-doo feather fanning incense burning 'Ommmmmm' sex- but no. He's like a boyfriend, he gives you what you want, gets what he wants, he's verbal, but not vulgar. He's just a grown man about it all. He's one of the ones you'd let spend the night. He's one of the ones you JUST MIGHT get up and cook some breakfast for :-) After leaving, my homegirls said that the band said Dre never gets down with 'groupies'. They kept asking if I modeled and said that I was real fly. Oh yeah, and he walked me out - damn, I should have stayed the night, but I was the Designated Driver, and still an all around 'Good Girl'. That was the wildest thing I've ever done. More juiciness when you read the rest. And if you couldn't tell by now, this ish is NSFW and explicit....
Method Man
He talks a lot. Method Man is a very interesting character. He's a beast in bed, he likes to spank and tell you to lay down, do this, do that. He's got a nice size. He's the real one. Very controlling. He likes to hit it from the back while he pulls your hair.
Allen Iverson
He has the littlest, ashiest dick I've ever seen. It' s like nonexistent. He looks like he should have a pussy. And it's dry. I would give him four inches at best, and skinny.
Rick Ross
When I went up to the hotel room door and he answered and at that moment I was thinking maybe dude is too damn big for me. He grabbed my hand and pulled me into the room. We sat and talked for about an hour and drank champagne (me getting tipsy and horny as the minutes passed). Then he asked me if I was staying the night, I was like the night is over, but I'll stay the morning. I told him I would stay if he behaved himself, he said ok. So asked to take a shower he said yeah why not. I didn't want to get in his bed smelling like a club when he's smelling all fresh and stuff. After my little shower I walked back into the room with a towel wrapped around me and laid next to him in the bed. He was smoking a blunt in his boxers and no shirt on. I was thinking big, but sexy. We were talking and bullshitting and then lights, camera, ACTION. He was feeling and rubbing me down and I was just purring like a kitty. This man rubbed and played with my clit until I came. Before I went for the boxers I said a little prayer, please let him be a decent size, but before I could touch it, he turned me over and slipped on a condom and entered me from the back. As he fucked me, I was like ok this bitch gotta have a big ass dick cause he was beating my fucking back out. I haven't been fucked like this in a while. He told me to stand up (he was already standing) so I had to get a peek at the product. When I looked back I was like Whoa!! Me being a sucker for a big dick, I kind of pushed him back slid to the floor and just had to give him some head, that dick was so big black and pretty, I couldn't help myself. From that point on Ross was getting fucked by me. I controlled the situation. His stamina was superb and when fucks, he talks dirty. he was very confident with his fuck game all the while saying "you like this dick" and the way he stroked this kitty, oh boy. It made me rethink a few things and no more stereotypes about fat boys with little dicks. The man is amazing on bed, thorough and no mistakes. He loves to put all his dick in you and he don't stop until he's hitting that spot. Ross has got to be one of the best fucks I've had in a long time.
Jim Jones
Once I got on the bed, I began to kiss him, but he pushed my face away and lowered my head down to his private part, which I didn't mind cause it was an okay size (decent). So now I'm giving him head and then he stops me to put a rubber on and then after 30 seconds or so he nuts. What a loser. Then he tells me "I gotta go now, cause he got shit to do". So I got dresses and the next thing you know he throws $10 at me and says "For your troubles, here's some cab money". SMH he's such a bum loser, he really isn't balling or packing. Guess I was a groupie for a night, but I wouldn't do it again.
Bobby Valentino
So everyone is assigned to their rooms and we get the last one down the hall. We walked in, and he asked me if he could have me, and I told him yes. He sat me down on the end of the bed, so now we're like eye to eye. LMAO he is so short. He gets down and unstraps my shoes, takes them off, then reaches over to undo my dress and when my dress dropped he asked me to turn around so he could look at my booty. He is really into asses, says he like like the way I wear my panties. Then he takes of my bra and he was like baby and I quote "You got pretty titties" and he must like sucking titties cause he was really good at it. We get into it, he puts a condom on and we get into it. He dick wasn't really big, but he knew what to do with it, so it was cool. If I had to rate him, I'd give him a 4/5 stars. He was good, but not all like that. He was really gentle and I'd say he fucked r&b style, like his music. Not rough or anything. He's just real short, so he had to be on top. Lol. After we finished and went to the club for the after party. I peeled out of the club later. He was cool but I just liked what we did. I haven't talked to him since, although I saw him in ATL last year.
Tyrese
His mouth should be for rent. His mouth is excellent. He started off with the mouth action. His mouth and dick are both good. He's working with something major. It was, like R&B sex. More sensual. He likes it from the back, too.
Busta Rhymes
Once we got in the room, it was no holds bar, he started kissing me really gentle all while taking off my top, then he laid me on the bed and (lets just say) his tongue is so soft I almost passed out! He was eating me like it was a buffet. Once he finished eating me out for what seemed like a century, he grabbed his dick and asked me "You want this?" and I said "Hell yeah." His dick is a nice size, not extra huge nor small, just right. I gave him a lil head and he went to fucking the hell out of me for like two hours, it was crazy! I left the next morning, while he slept.