*UPDATED* Rick Ross ARRESTED!+Snoop Dogg Hiding A Dead Body?
Apr 10 | by Natasha
So
Rick Ross
was arrested and held hostage in an Atlanta tattoo parlor City of Ink  Tuesday night. Apparently there was a possible sting operation of some kind going on and Ricky was just in the wrong place at the wrong time. He was cuffed and all, but then was released as soon as cops realized who he was. But 2 of his friends are still in custody. Let 50 Cent tell it and the cops released Ricky when they realized he was one of them. Smdh...
Freddy O took video of the fiasco. A mess.
UPDATE: Apparently the
folks
over at City of Ink are pissy with the source of the story lkying. They say it was exaggerated and no one was arrested:
Man, some niggaz kill me with bullshit stories tryin' to make a name for themselves. As some of yall know the police came over and started fucking with Rick Ross because his tour bus was making too much noise over at City of Ink...FreddyO.com posted FAKE BULLSHIT story about what happened that night...Rick Ross was NOT handcuffed..in fact the police never even talked to Rick Ross....they handcuffed, Tuki's brother (Chris Carter) for no reason at all...no charges happened and no one was arrested...it was funny because some dude jumped out the shadows with a camera tryin' to a story to make a career for himself...he even lied and said "She sister was in the shop" no female was at the shop period...here is the video..LOL
Hmm....
So
Snoop
decided to spend his Thursday afternoon yesterday blazing up and streaming it online for his fellow weed heads to see. He's calling it the "Wake and Bake Show." And while he was partaking in that foolishness, an anonymous tipper called the California Highway Patrol and told them Snoop had the dead body of his wife in his basement: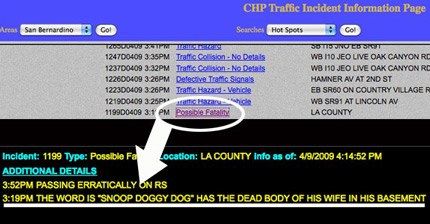 CHP wasn't sure to take it seriously or not. No word on if LAPD went out to investigate the situation yet...
UPDATE
: Snoop says Boss Lady Shante
is alive and well.
The Randomness: 1. R.I.P.
Pop Winans
.
Story