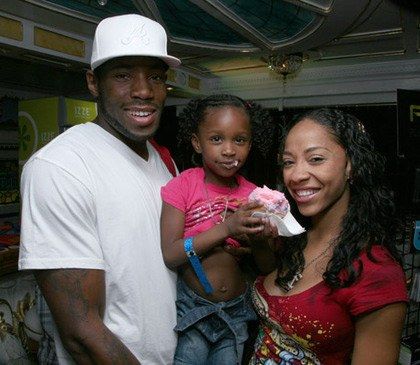 25 year old San Diego Charger
Antonio Cromartie
is a busy dude.  TheYBF.com has discovered that he has 7 kids...with 6 different women...in several different states according to our very reliable source.  And allegedly, the kiddies are all under the age of 3.  Damn! Oh, but it gets better.  
Terricka
from E!'s "Candy Girls" (that reality show about video chicks and their "careers") has made Antonio her new man.  He appeared on the most recent episode where Terricka--who has a daughter from a previous relationship-- claims they had "just met and started dating."   That's interesting since we have a legal document proving he and Terricka were already MARRIED!   Don't you love when fake reality tv gets caught in their own lies?
We also talked to Antonio's most recent baby's mother (who's name has been removed since a court case is pending), and she says Antonio is all B.S.  And he is not even trying to take care of their daughter they have together who is now 6 months old. So she filed for child support and even petitioned Terricka in the suit (above).  According to her, Antonio's only seen his new baby girl for 1 hour of her whole 6 month life.  And he stopped sending child support payments out of the blue and wouldn't even go in half for the baby's cord blood procedure (which would have been about $1000).  The newest mother tells us Antonio claimed 1G was "too much money", but a few weeks later, spent thousands on a SpongeBob necklace for one of his other baby sons.  Triflin'... More juice when you read the rest...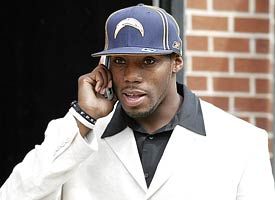 The new mom also tells us Antonio wifed up Terricka while he and new mom were still engaged:
Terricka

, from Candy Girls, constantly plays up her single mother role.  This is blatantly untrue.  The show last night introduced her boyfriend, Antonio Cromartie of the San Diego Chargers.  He is in fact her husband.  They married in November 2008, months before this episode was filmed.  He proposed to me in Hawaii last year and we were set to marry in June 2008.  He got cold feet but we agreed to push the date back and remain together to work on us.  Well without calling off our engagement, he married

Terricka

.   All of this while I was pregnant with our child.  Our daughter was born in October and he had another daughter born in December by another mother.
As if this wack ass baby daddy file couldn't get any worse, Antonio's been dodging child support papers the new mother's been trying to have served to him and Terricka:
My lawyer was attempting to have child support docs served on Antonio however Antonio continuously dodged him.   My lawyer had his process server go there on Christmas Eve.  

Terricka

answered the door.  The process server asked for Antonio and she said he wasn't home but that she was his wife.  Now she is denying that she ever took the court docs.
I guess Terricka's another video chick desperate for a baller.  No matter what his track record...