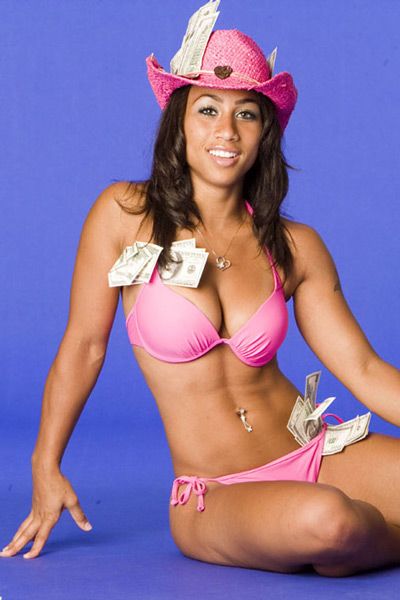 Something must be in the water. It looks like we have more pornorificness on our hands--and this time it's from
Flavor Flav
's ex-boo
Hoopz
from "Flavor of Love". Apparently this is a sex tape featuring her and it's leaking as we speak. For all you freaky folks, the preview video "allegedly" featuring Hoopz is
here
.
UPDATE
: Here's the "press release" I just got from the broker selling Hoopz' sex tape:
For Exclusive Release Hardcore Video of Hoopz Exists The rumors are true. A hardcore sex video starring America's hottest reality TV star, Hoopz, does exist. Infamous celebrity sex tape broker Mr. ZZee, the mystery man behind other best selling celebrity sex tapes, is announcing he has acquired a hardcore sex video starring reality TV star Nikki Alexander aka Hoopz. Hoopz, star and winning contestant of VH1's Flavor of Love and I Love Money hit shows, is shown having sex with her boyfriend, and all of the hardcore footage is on tape. The high quality video features multiple positions, multiple camera angles, including hand-held and POV footage and even shows Hoopz doing a wild sideways cowgirl position that has to be seen to be believed! Screen shots and a video clip are attached. The full video will be available for online pay-per-view and on DVD shortly.
Oh goodness...
Sean "Diddy" Combs
came through with his booty buddy
Cassie
, flanked by four bodyguards and an entourage, to Vegas' JET nightclub last night. Diddy ordered two bottles of Ciroc vodka and four bottles of Ace of Spades champagne for the party as his bodyguards were on full-time duty deterring fans from snapping photos of the group. But we got one of Diddy anyway. We hear when
DJ Que
pumped Cassie's new single "Must Be Love," featuring Diddy, Cassie got uber-excited and wasn't shy about being lovey-dovey with her...Diddy. Shocker. More when you read the rest... Here's
Ciara
performing with
Justin Timberlake
last night on "SNL": And
Mariah
's new video "Love Story" directed and produced by--who else--
Mr. Mariah Carey
: This must be what she was crying over at
their anniversary party
last week. And here's a video of Canadian rapper
Drake
talking about his songwriting and a standard of quality some rappers aren't reaching: I seriously heart him and damn near every song of his so far. And this dude has only done mixtapes up until this point...