Jada Pinkett Smith Covers June EBONY
May 11 | by Natasha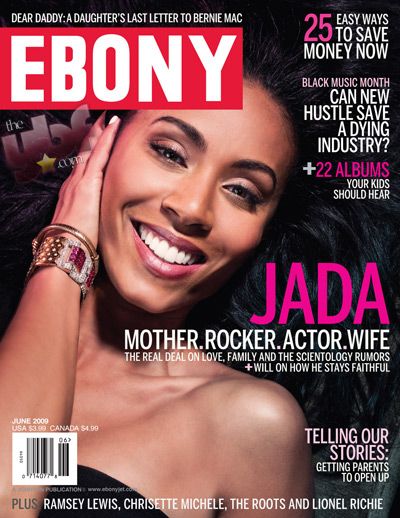 Jada Pinkett Smith
is proof that good things come in small packages. The 5-foot-tall powerhouse is in control and living life to the fullest as she awaits the premiere of her new TNT drama, "Hawthorne". The talented actress, producer and rocker was surprisingly forthcoming about her marriage to
Will
, her views on the Church of Scientology and even the Internet rumors. "You want people to talk about you, because once they stop talking about you that's when you're really in trouble! I'm happy to have people talk about all the craziness they want to talk about, whether it's things like every year we're getting divorced or we're an open family or Will's gay, or I'm gay." And we've some juicy quotes you read here first after the jump...
On how she makes her marriage work…
"People always ask me, 'Will, he's the biggest movie star in the world and we ain't never heard of him with anybody. How do you keep him from stepping out on you?'" "I'm not that powerful," she confesses. "I wish I could say it's because I'm a bad chick. What it has to do with is Will's relationship with God and who he wants to be as a man for God."
On rumors about the New Village Leadership Academy…
"All I can say is it is not a Scientology school. Now, If you don't trust me, and you are questioning my integrity, that's a whole different matter. That is straight evil to think that I would bring families into that educational institution and then try to get them to convert into some religion."
On their decision to home school...
"I didn't want my children around other privileged kids who felt entitled. I didn't want them to be around just one type of person."
On spending time with the kids…
"A lot of time, we just sit at home and watch movies together," she says. "I like to bake with the kids – 7UP cake is our favorite."
On divorce…
"When Will asked me to get married, I said, 'Understand this, there will be no divorce. So, you might be in one bedroom and I might be in another, but we're gonna be under the same roof and we're gonna be married.'"
On religion…
"I believe the worst thing a human being can do to another human being is to take away their God. At the end of the day all we're trying to do is figure out how to live this life and be fulfilled."
WILL SMITH:
On working hard not to hamper his wife's spirit…
"There is no other option if I want the full glory of everything that my wife has to offer me emotionally, and spiritually, and sexually, and all of that. If I want that, then I have to increase my capacity for what I am able to handle from my partner."