Beyonce
is fulfilling her announcement from a while back that she will be doing a video anthology for "I Am..."  The anthology is set to be released soon and the re-release of her Deluxe edition of "I Am..." will happen exclusively at Wal-Mart June 16th.  ""Ego" is her next official single after pulling "Broken-Hearted Girl".  She'll be releasing "Sweet Dreams"  June 2nd as well.
Kanye
is f'in mad at Twitter.  Here's his latest rant (and I can actually feel him on this ish) taken straight from his blog:
I DON'T HAVE A FUCKING TWITTER... WHY WOULD I USE TWITTER??? I ONLY BLOG 5 PERCENT OF WHAT I'M UP TO IN THE FIRST PLACE. I'M ACTUALLY SLOW DELIVERING CONTENT BECAUSE I'M TOO BUSY ACTUALLY BUSY BEING CREATIVE MOST OF THE TIME AND IF I'M NOT AND I'M JUST LAYING ON A BEACH I WOULDN'T TELL THE WORLD. EVERYTHING THAT TWITTER OFFERS I NEED LESS OF. THE PEOPLE AT TWITTER KNOW I DON'T HAVE A FUCKING TWITTER SO FOR THEM TO ALLOW SOMEONE TO POSE AS ME AND ACCUMULATE OVER A MILLION NAMES IS IRRESPONSIBLE AND DECEITFUL TO THERE FAITHFUL USERS. REPEAT... THE HEADS OF TWITTER KNEW I DIDN'T HAVE A TWITTER AND THEY HAVE TO KNOW WHICH ACCOUNTS HAVE HIGH ACTIVITY ON THEM. IT'S A FUCKING FARCE AND IT MAKES ME QUESTION WHAT OTHER SO CALLED CELEBRITY TWITTERS ARE ACTUALLY REAL OR FAKE. HEY TWITTER, TAKE THE SO CALLED KANYE WEST TWITTER DOWN NOW .... WHY? ... BECAUSE MY CAPS LOCK KEY IS LOUD!!!!!!!!!
Snaps in a circle.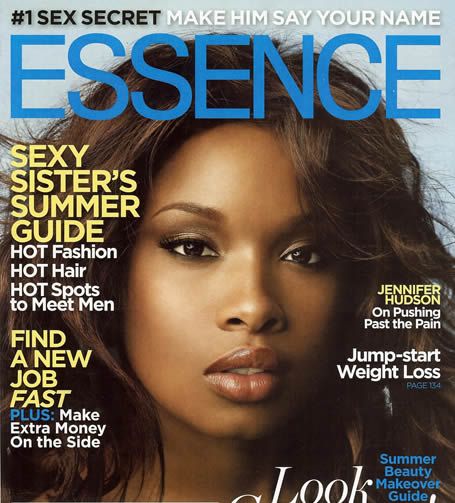 J-Hud
is rocking the June cover of
Essence
Magazine.  Looking pretty fab there Jenny.