*UPDATED* PLAYOFF DRAMA: Kenyon Martin Flips Off The Crowd+LaLa Gets Escorted Out The Game!
May 12 | by Natasha
Apparently
LaLa Vazquez
, fiance of Denver Nugget
Carmelo Anthony
, got into it with Dallas fans at last night's playoff game.   After LaLa popped off on some folks sitting next to her--likely after they talked some smack to her--she cussed them out, tried to throw something at them and fight.  Police had to come in and escort her out the building for her safety.  She posted on Twitter that she had to send their son
Kiyan
back to the hotel because "the Dallas fans go too hard."  Drama!  What would the "Charm School" judges say?  Nevermind.
UPDATE: Here's the statement from LaLa's people:
La La Vazquez became distressed during a heated playoff game, after being verbally attacked by some opposing fans, who were using racial slurs, calling her child crude names and throwing ice cubes. She sent her son home early and was preparing to leave herself when she was physically pushed. Although shaken, she left the premises on her own will and is happy to be at home with her fiancée and child. "Obviously the play-offs games bring out the best and the worst in fans but what happened on Monday night with the racial slurs/threats, verbal attacks on my son and physical attacks to myself by irate fans was unacceptable," states La La. "The fans were totally out of control. What the cameras captured was me defending myself and didn't show the abuse that was taking place."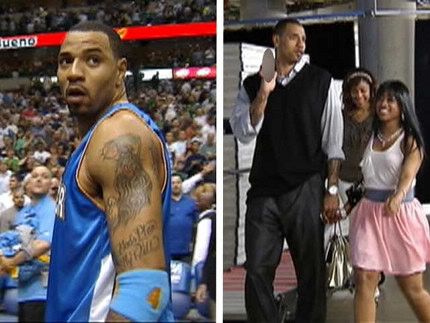 That all came after Dallas Maverick owner
Mark Cuban
had to issue an apology for some unclassy and mean words he said to Nugget baller
Kenyon Martin
's mom in the stands.  And after Kenyon arrived to the Dallas stadium yesterday--with his girl
Trina
on his arm--and flipped off the crowd.  Damn.