Alicia Keys & Swizz Beatz Go Public?!
May 13 | by Natasha
Well looky here:
Alicia Keys and Swizz Beatz were partying it up with her brother and Alejandro Sanz a few weeks ago in Miami. Clearly they didn't care what cameras caught them relaxing together. We've been wondering why Ms. Keys has been hiding out ever since the news broke of her being Swizzy's mistress and the cause of Swizz and Mashonda's divorce. And it looks like she was trying to let the drama die down before she took this ish public.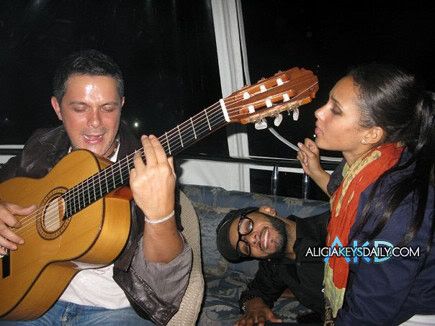 Swizzy always denied their relationship while Mashonda pretty much confirmed it in so many words. Alicia always remained quiet...but paparazzi pics speak a thousand words. I just know if I didn't have a "relationship" with someone, and wanted everyone else to believe I didn't, I wouldn't be hugged up and partying with the person in Miami. Just sayin'... By the way, we also hear Swizzy wrote a song about Alicia very recently. I can only imagine what that one says....
AliciaKeysDaily.com