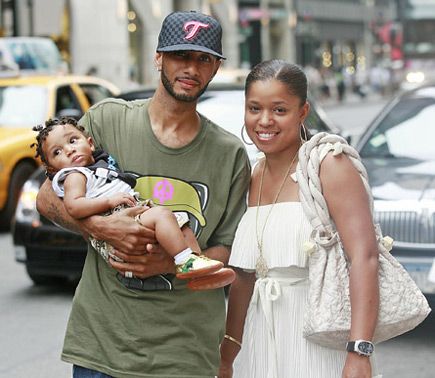 So
Swizz Beatz
is trying to play hard ball with his divorce from
Mashonda
. He's now demanding a gag order be put on Mashonda and anyone as it relates to their public divorce. Timing is interesting though since this comes right after he went public with his relationship with
Alicia Keys
:
...Now that he's gone public about his romance with songstress Alicia Keys, rapper and producer Swizz Beatz wants the public barred from ongoing divorce proceedings with his wife, singer Mashonda, The Post's Dareh Gregorian reports. Beatz, whose real name is Kasseem Dean, has asked Manhattan Supreme Court Justice Deborah Kaplan to seal the proceedings and issue a gag order. Mashonda's lawyer, Bernard Clair, called the move "curious," and noted that his client's divorce suit and request for support for their son were "flying under the radar until Mr. Dean and Alicia Keys went public about their long-term affair and he released a song implying that he likes it when Alicia serves him breakfast naked. Now that Mr. Dean's questionable conduct is being scrutinized, he suddenly wants a gag order and the media to be locked out?" Beatz's lawyer didn't return a call for comment.
Mmhmm...
And in other news, author
James Frey
(the one who bold faced lied in his books just to get in
Oprah
's good graces)
is threatening
to release "damaging" audio tapes of the talk show maven Oprah herself.  He says it could ruin her and obviously he's doing this because he's still salty he got put on blast.  But O is shrugging it off saying, "There's no truth to that. It is all fiction. It just makes for a good novel."  Why do I secretly want to hear some good dirt dished on an Oprah audio though? The Randomness: 1. Michael Jackson is postponing his comeback tour. Again.
Story