A woman is alleging that she was raped at NY Jets baller (and known ladies' man)
Kerry Rhodes
' home after she met him in a Manhattan club. 26 year old Kerry has a townhouse in New Jersey and apparently invited the alleged victim and her friends back to his place for a post-club soiree. Rhodes, in a statement issued through a Jets spokesman, said:
"I briefly talked with police on Saturday regarding an incident that allegedly took place at my home. The police confirmed to me that I am not the subject of this allegation."
And according to the
Post
:
The woman told police that she had gone out Friday night with a female friend to a Manhattan nightclub, where they met two men, one of whom was Rhodes, the sources said. The woman did not know who Rhodes was at the time, but her girlfriend did, sources said.
The woman said she left the club with Rhodes and the other man and went with them to a Morristown residence, according to the sources.
Drama... And here's some pics of
Chris Brown, Usher
, and
Chris Tucker
kicking it courtside at the Orlando Magic game the other night: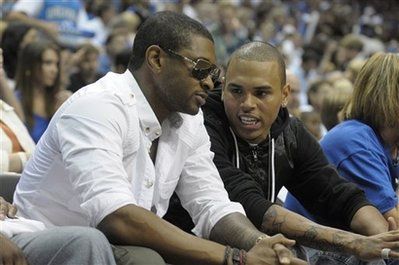 Damn. Who knocked Chris the f**k out? And I see Usher's trying to do damage control after that smart ass remark he made about Chris riding jet ski's right after Chrihannagate......