MTV Movie Award "WTF" Moments
Jun 01 | by Natasha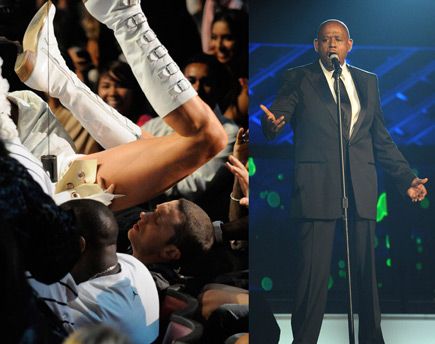 It was a night full of sticks and berries.  At the MTV Movie Awards last night,
Sacha Baron Cohen
decided to fly in--dressed as his "Bruno" character--and announce the next award while dropping spread eagle around
Eminem
's face.  You can't do that to a grown ass man without him getting pissy.  Em and his crew started fighting Sacha off him, then Em stormed out of the show.  Check it:
Staged?  Probably.  WTF worthy?  Indeed.
And then
Forest Whitaker
hit the stage to do a dramatic interpretation of that now infamous "D*ck In A Box" song from "SNL". At least he wasn't the only well respected person up there singing. But damn.