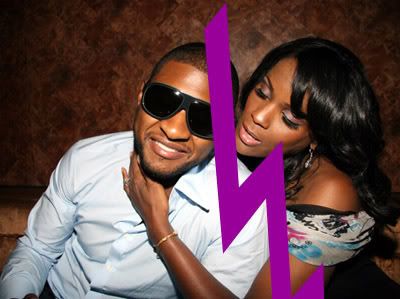 Well well well.  We called their separation first
a year ago
(even though many doubted us), and now
Usher
has reportedly filed divorce papers this morning in Atlanta! And now others are reporting that they've been separated for--you guessed it--a year! Rumors have been a-brewing all week about Usher and
Tameka Raymond
riding down Splitsville Lane.  And Tameka's been defending their marriage left and right.  Not a peep from Ursh though.  Even when Tameka sent him a Twitter message and got no response from him.  This morning, one of our 100% reliable sources who works in the Raymond household on occasion told TheYBF.com that Usher packed his things and moved out weeks ago.  And this afternoon, here's what's being reported by
In Touch
:
In Touch can exclusively reveal that Usher and his wife, Tameka Foster, are divorcing. "The Grammy winner has been living apart from his wife for nearly a year after almost two years of marriage," the insider exclusively tells In Touch, adding, "Usher's primary concern is for his children. He is a great father and just wants to do what is right for them." The soon-to-be exes have two kids together, Usher Raymond V, 18 months, and Naviyd, 6 months. And the insider says that it's more than just talk — the divorce papers were filed in Atlanta this morning. The couple has faced problems in the past. In November 2008, In Touch reported that Usher was flirting with girls at a party in Miami, and even asked a model what she was doing afterward.
Hmmm looks like Usher's next album
Monster
may rival
Confessions
.  Since both are convenient breakup albums and all....
Sidebar
: I also wouldn't be surprised if
one
of their kids turns out to be Maury's paternity envelope worthy.  I'm just sayin'...