Scandalicious Update: Papa Knowles & Beyonce & LeToya Luckett
Jun 11 | by Natasha
So after the rumors hit this week about
PaPa Knowles
stirring up trouble at the BET Awards, we decided to ask our own sources about the alleged scandal and wait for some confirmations. Apparently Mathew Knowles told BET that
Beyonce
would not perform if they insisted on letting former Destiny's Stepchild
LeToya Luckett
perform as well. We all see whose name is still on the BET Awards moniker, so it's safe to say LeToya lost this one. We asked our own sources at BET about whether any of this is true, and we got a slew of "No comment"'s. Don't know about y'all but I'm taking this as a yes. Damn shame. Here's a copy of the letter sent out: work for XXXXXXXXXXXX. I just want to share something with you because maybe you can help by spreading the word.
Mathew made a threat against BET to remove Beyonce from the BET Awards line-up if LeToya were to perform on that same stage that same night. It is sad to say but I think XXXX will win over LeToya [Luckett]'s management because Beyonce is a garantee to bring the ratings up for the show. In business we have to deal with shady politics but this is going too far. All I want is both girls to perform. Not just want or the other. I've talked about it to some LeToya fans about it and now they started a petition (http://twitition.com/nufi6) . Even if BET wouldn't bend over (which I doubt) he would get Beyonce out there at the last minute. He's just trying to intimidate BET. Anyway now you know, deal with this info the best way you can.Please don't reveal my indentity or where I work at.
It's a nasty game that Mathew Knowles like to play.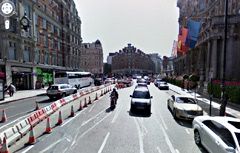 Harvey Nichols on left, B's hotel on the right
On another note, Beyonce
reportedly
had her entire entourage take her 45 feet (directly across from her London hotel) to the Harvey Nichols to shop. They packed up several cars with security and assistants just to go across the street to shop. This wouldn't be news if they were continuing their journey elsewhere. But they went right back tot he hotel afetr the shopping spree. I mean....the street
was
barricaded and it
is
hard to walk all the way down the block in 6 inch stilettos. Nevermind...