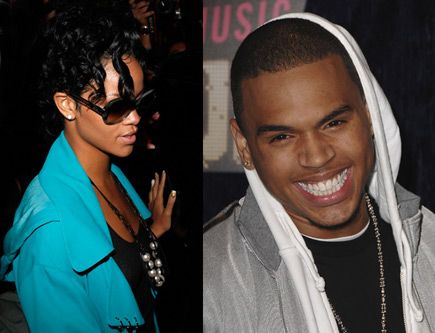 You can stop twiddling your thumbs now waiting on this moment.
Chris Brown
and
Rihanna
have indeed cross paths are in the same place within feet of each other at tonight's Game 4 of the NBA finals. Apparently Rih was en route to Orlando earlier today because she is surely sitting on one end of the front row courtside seats tonight. While C Breezy, of course, is sitting way on the opposite end. According to the
sports press
:
CELEBRITY SIGHTINGS: R&B singer Chris Brown and former girlfriend Rihanna were among the celebrities in attendance at Game 4.
Brown is accused of beating then-girlfriend Rihanna after a pre-Grammy party in February. The case is still pending. They were sitting in the same row on opposite ends under the basket [tonight].
We haven't learned of any words being exchanged between the two tonight, but the former lovebirds are indeed kicking courtside at tonight's game. This may get interesting... Pics to follow as soon as they're available...